5 players who could replace Vincent Kompany at Man City
24 Jul 2019
Indifoot
0 Likes
0 Comments
902 Views
Apart from Rio Ferdinand, not a lot of modern day defenders come close to Vincent Kompany. The former Man City captain was a rock at the back, with his commanding presence and great leadership helping secure City's backline for over 10 years. Kompany was the poster boy of the City rebuild under the Qatari investment, having been signed early in the Sheikh Mansour era.
Kompany hailed from a relatively unknown background, with City signing him up from Hamburger SV after just two seasons in the Bundesliga. Kompany was an immediate success at Man City, with his intelligence and connect with the fans making him a firm favourite. With 4 Premier League titles and 6 League cups, Kompany left City as one of the most successful player in its history.
But his departure has left a big gaping hole in the City defense, with his importance significantly stressed during the last two months of the title run-in last season. With John Stones woefully out of form, Kompany rose from the injuries that savaged his season and shored up the defense alongside Aymeric Laporte last season.
Kompany's stretch in the first team for the last two months coincided with their undefeated run in the Premier League, with his crucial 75th minute screamer from 40 yards out against Leicester City ensuring a back-to-back Premier League title success. With Aymeric Laporte now looking for a partner to aim for a historic hat-trick, here are 5 candidates who can step into the shoes of Vincent Kompany:
Toby Alderweirald
Toby Alderweirald was a relatively late bloomer, with his with his loan spell at Southampton rejuvenating his career. He moved onto Tottenham Hotspurs and proved to the world just how mean and strong he was. In 4 years at the club, Alderweirald has made the right centre-back position his own.
Alderweirald was so important for Tottenham that even with his contract running out, Mauricio Pochettino could not afford to keep him out of the first team. Alderweirald averaged 5.35 clearances per game and 1.3 tackles per game at Tottenham. At €25 million, he will be a bargain replacement for Vincent Kompany, bringing similar attributes to the club legend at Man City.
Harry Maguire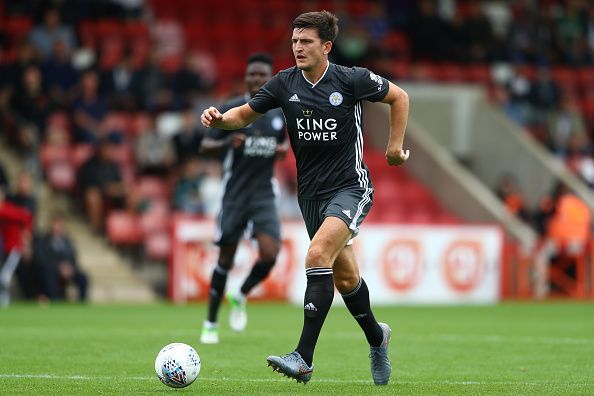 Harry Maguire has had a meteoric rise in the Premier League. Since joining Leicester City from Hull City in 2017, Maguire has seen his value rise from €13 million to €85 million in the span of just two years. The Englishman is one of the best, if not the best, ball playing defender who can bring the ball out of defense effortlessly.
Maguire's meteoric rise has seen him overthrow John Stones to become the first choice centre-back for England as well. The Sheffield-born Leicester star averaged 82% passing accuracy and executed 5.4 accurate long balls per game at Leicester. Maguire will not come cheap, but at 26, he can replace Vincent Kompany long term playing at the peak of his powers for the EPL champions.
Samuel Umtiti
How the stocks have fallen for Samuel Umtiti. One long term injury and tremendous form of his replacement Clement Lenglet has seen Umtiti angling for a move away from FC Barcelona. The French World-Champion was one of the best player at FC Barcelona in his first season at the club. But injuries and brilliant form of his French counter-part has pushed him down the pecking order.
Umtiti averaged 1.3 tackles per game and made 1.6 interceptions per game at FC Barcelona. The 25-year old is comfortable on the ball, with his 93% passing accuracy the best in his position. Umtiti is a bright prospect who could be available on the cheap after 3 seasons of grooming at FC Barcelona. His physical presence coupled with his finesse on the ball make him an ideal candidate to replace Kompany.
Kalidou Koulibaly
The best way to replace one of the best defenders in the Premier League is to buy the best defender in the world. Do not doubt the fact that Koulibaly IS the best defender in the world. At the age of 28, Koulibaly is at the peak of his powers. And given the longevity of Serie A defenders, he will probably be at his peak for at least 5-6 more years.
Koulibaly will cost Pep north of €100 million, but this investment will instantly secure the third Premier League title for Man City, such will be the strength and aura of this signing. Koulibaly averages 2.2 tackles per game and 3.9 clearances per game, but it is his work off the ball and his strong leadership and positioning sense, that make him the absolute best.
Napoli have strongly stated that Koulibaly is not up for sale, and it will take a bid north of €100 million for Napoli to part with their prized asset.
Raphael Varane
Raphael Varane, at the age of 26, has won it all. He could very well hang his boots up and have a trophy cabinet better than 99% footballers. Such has been his prowess at Real Madrid, that the capital-club have not signed a top class defender in well over 5 years. Varane, yet another World Cup winner, has been one of the bets, if not the best, defender in La Liga ever since he broke through at Real Madrid.
The 26-year old averaged 1.5 interceptions per game and made 4.5 clearances per game during his stint at Real Madrid. Varane is happy at Real Madrid and sees his future at the giants for atleast one more season. This means that a record-breaking bid will be required to even get the head of Florentino Perez turned.
Pep Guardiola recently conceded that they might not be able to replace Vincent Kompany this summer. With Rodri signed to replace Fernandinho, it could see the Brazilian deputies as a centre-back whenever needed. But signing a long term replacement to Vincent Kompany must be an absolute priority for City, one which just might need more than one summer to materialize.