7 To 0…A lot has changed
02 Dec 2017
Indifoot
0 Likes
0 Comments
673 Views
People have chosen different ways to be who they are in these 90 minutes. It has made us see humans as Gods and demons. It has made 11 people be more than something that they are individual.
What amazes me the most is how this greatness or disappointment is built around an idea of how 11 people are supposed to run around in a space of 90x45 meters for 90 minutes?
The way teams are set up and positioned defines the game. It maximizes the potential of a person or renders a greatest of all absolutely useless. A striker need not be played as the goalkeeper for him/her to be absolutely dud but a matter of 5 to 10 meters front or back from the position. Or the number of people and who is around the person changes so much.
For any team to be successful or not, depends on a lot of who plays. But also on where who plays. Forwards, Midfielders, Defenders is where it might have started. But positional names have almost become a thing on paper rather than its effectiveness on the field.
This is where I start – Formations and its versions of evolutions. The numbers from 0 to 9 have all been used at different times and in different ways.
The first match which can be taken as some sort of reference where a defined formation was observed for the first time was between England and Scotland played in 1872. England lined up in a traditional 1-2-7 and Scotland lined up a radical 2-2-6. A decade later was when some English clubs started experimenting with 2-3-5.
"The formation of a team, as a rule, is to provide for 7 forwards and only 4 players to constitute the 3 lines of defence" – Charles W Alcock
This was a statement given by the first secretary of Football Association. Oh, how the times have changed.
From 7 people in the front a "traditional approach", we are at zero with a false 9 that a lot of teams resort to now. Thanks to Mourinho we have also seen a 9-1 formation played. God knows why that 1 was left out. Football has gradually moved towards a safer approach and more balanced approach. But the transition has seen a lot of innovations and experiments.
Evolution is one of the most important aspects of a prolonged success. Any team stuck with a formula for a success in the way of a formation or style of play hasn't really seen daylight for long. Lots of one-time success stories can be taken as a case to prove this. Leicester City, one of the most recent cases. Vardy's burst of speed and some real pacy counterattacking mixed with Mehrez's trickery won them the Premier league but everyone knew this was a onetime thing. Thanks to the impatience of the current generation Ranieri saw the axe the very next season.
The biggest attributes of Sir Alex and Bill Shankly were that they evolved with time. They were courageous enough to make the change when it needed. Tactically and in person. England winning the World cup in 1966 could be one of the worst things that happened to English football. The whole generation that followed and which is still continuing, by the way, got into the "English Way" of physical approach to the game. English game never evolved and Ramsey's English team is the only thing to show as an International award-winning team for a long time.
Sir Alex Ferguson - One of the pioneers of football
From 7 in the front to none, the flip in the pyramid has been rather a boring affair at times but also a freshness to the game. A lot of players and coaches have contributed in making it either boring or exciting. Italians bored the world with a defensive approach but also gave us one of the most exciting roles in World football which few have used to good effect in the form of a Regista. But none influenced world football like the Dutch with their beautiful football. It is unfair to speak about evolution in football without mentioning Rinus Michels. What he did with Ajax basically ripped the catenaccio (The boring part) of Inter 1960 which saw success for about a decade and brought about the most significant change in the History of formations, Total Football.
Numbers information were just mere numbers after that. Dutch teams played with beauty and skill combined with the telepathic understanding of teammates to great effect. It was simply beautiful to watch. Which tempted a lot of coaches to adapt it and blindly so. It needed players of supreme skill to make it work. More cases than not, fullbacks were found out of position with the rest of the team wondering where they were supposed to be.
A lot of teams had tried out the system for short durations, which includes even Burnley in 1950, but none put it to the use, like the Dutch. The Hungarians were also one of the early to try total football. Mischels a pupil of Reynolds, who is credited with the invention of total football adapted it with The Great Johan Cruyff, allowing him to move freely on the pitch to great effect.
Cruyff did not really do much of change to the system for Barcelona as a coach. When appointed as the coach, he drew 3 three lines on the board for defence 4 in the midfield, 2 out and out wingers and 1 striker much to the wonder of the team. It was a time of 3-5-2 and 4-4-2. The biggest thing about the team was the height restriction imposed. Players below 1.8 meters were preferred. La Masia set up reaped huge rewards, credit for which has to go to Cruyff. But as far as the system goes, he trusted his style amongst heavy resistance from the club.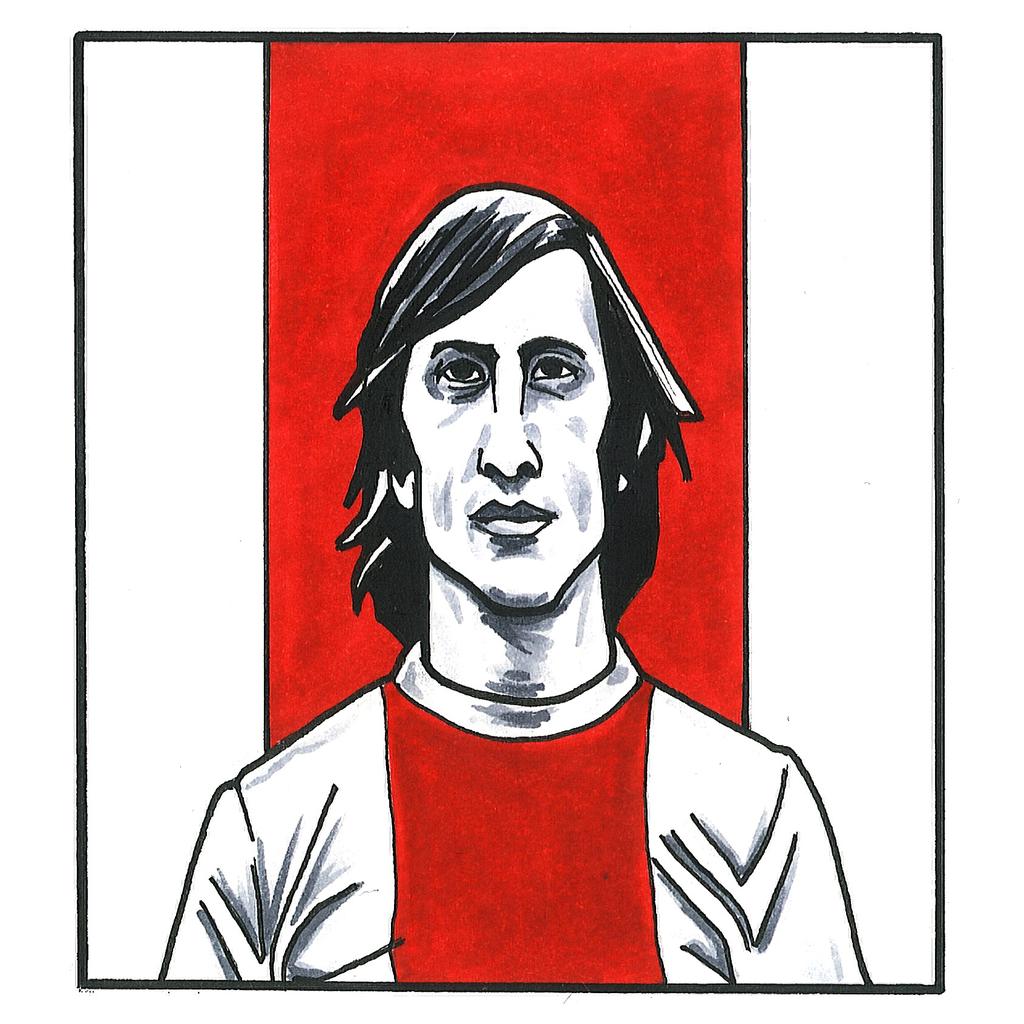 Cruyff brought total football to the fore
Quite a few coaches came and left from then on in Barca. Success was found in many ways across the world. Most notable being Fergie with his 4-4-2 mostly. AC Milan used Pirlo to great effect in the Regista, arguably the best the world has seen in that position. Mourinho started making news with defenders when teams wanted to score as much as they can. All this while, A lean and not so tall defensive midfielder from the Dream team of Barca came in to revolutionize the Spanish football scene for a long time to come. Although Austrian Matthias Sindelar played it first, Guardiola's Messi brought False 9 to the fore. Totti was used in the similar position by Spaletti at Roma, but Messi perfected the position. Blueprint of the same was used by Spain to dominate international football combined with Tiki-Taka also a Barca special. So much was the influence of this that Fabregas played as the false 9 for Spain when Messi was the talk of the town in that position. Contrasting styles of both shows how effective it is as a system.
And thus began the era of 0 strikers. Pyramid has finally reached its pinpoint. It was unfathomable to think of playing with no strikers back in the 1860s. But here we are with teams winning championships with it. There have been times when an age-old system or formation has been used to surprise an opposition like the Greeks did to win the Euros. People had just forgotten man to man marking that players of Christiano Ronaldo's caliber could not find a way through in the Final. Referee helped a lot as well in that particular match but still, yet, credit should be given where due. We might still see a side fielding 7 forwards. But with the current transfer rates of forwards, that is an unlikely chance. But, never say never.