Antônio de Oliveira Filho a.k.a Careca
10 Oct 2017
Indifoot
0 Likes
0 Comments
1142 Views
Antônio de Oliveira Filho a.k.a Careca admired a famous Brazilian clown of the same name as a child, hence the name
Careca is Portuguese for Bald. Careca, born in Araraquara, is one of Brazils legendary frontman, who started playing football on the streets of Sao Paulo. From a young age, Careca had an eye for the spectacular. He was famous for scoring from awkward angles and scoring off-balance. He used to deceive the keeper and defenders by shooting while seemingly running with the ball, a trickery which has earned him lots of goals. If you have watched Antoine Griezmann play for France, Careca's style of play would be easy to understand. He could play off his team-mates and set up goals along with providing the finishing touches to them, which is evident by his insane conversion rate of close to 1 for Sao Paulo.
Sao Paulo signed Careca, assuring goals for them and headache for opposition defenders
Careca joined Guarani as a 17 year old, starring for them in just his first season, delivering the Campeonato Brasileiro Serie A. His devastating pace and lightning quick acceleration made him almost impossible to defend against. His movement and positional sense was very good right from a young age, thus making it very difficult to mark him. He was a consistent performer for Guarani, scoring 46 times in 77 League games over four seasons. In 1981, he helped them to the Brazilian Second Division title.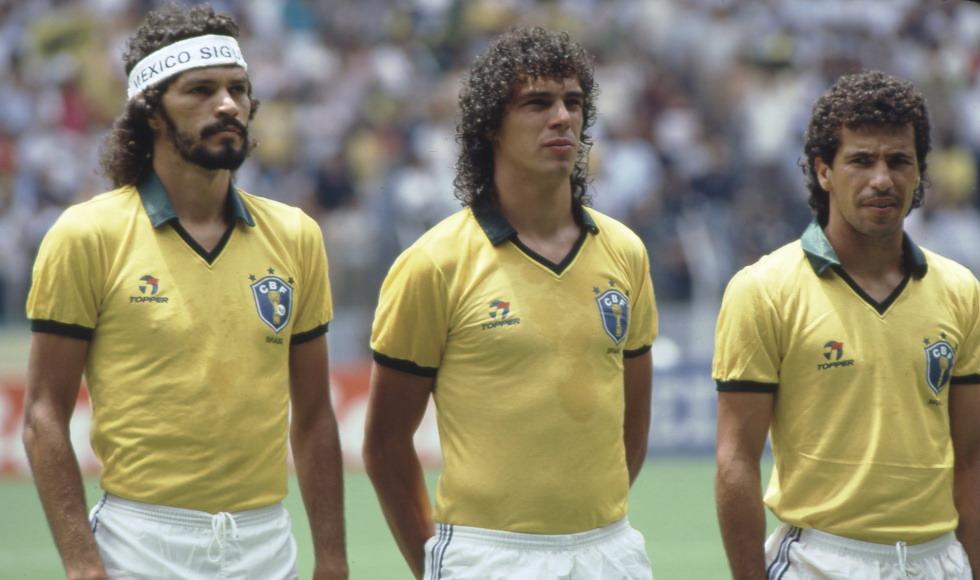 Careca gave one of his best performance in the yellow of brazil against France in the World Cup
1982 was such a prolific year for Careca that he won the Bola de Prata, which is the award for the best player in their respective playing position. Careca won the Bola de Prata for the Best player in the Forward role. His impressive performances earned him a National Call up and he instantly broke into the first team, quickly becoming their first choice striker before the 1982 World Cup. But a dissapointing knee injury meant he lost out on the ticket to Spain for the World Cup. The injury would force him out of action for a long time, but he made a strong comeback, featuring in the Brazilian squad that came in 2nd at the 1983 Copa America.
In that same summer, Careca moved to Sao Paulo on the back of a sterling reputation that he had earned for being a deadly finisher and a consistent scorer. Over the next four years, careca would go on to maintain a Goals to Game ratio of 0.81 in the League, winning it in 1986, along with two Campeonato Paulista triumphs in 1985 and 1987.
Careca formed a deadly partnership with Maradona and Giordano at Napoli
1986 was a special year for Careca on a personal front, as he scored 5 goals in the World Cup for Brazil, winning the FIFA World Cup Silver Boot, losing the Golden Boot to Gary Lineker. His impressive display for both club and Country earned him a spot in the South American team of the year as well. He was also the top scorer in the league, thus winning the Campeonato Brasileiro Serie A Top Scorer award. But the biggest personal award was the Bola de Oura, the Brazilian equivalent of Footballer of the year award. It was a hugely successful campaign, one that would pave the way for his transfer to a club where he spent his peak years.
In 1987, Napoli put in a bid for Careca and successful earned his signature. He formed a deadly partnership with Diego Maradona and Bruno Giordano as a part of the "Ma-Gi-Ca" front three. It was a move to the best league in Europe and to a big club, one that Careca thoroughly deserved. In his first season in Italian Serie A, Careca scored 13 goals, but could not inspire Napoli to silverware, as they were knocked out of the European Cup in the first round, losing out to real Madrid. They also lost the Serie A in the final few match days, losing out to A.C Milan.
But Careca inspired Napoli to a famous UEFA Cup win in his second season at the club, memorably scoring in both the legs of the finals against VFB Stuttgart in a 5-4 aggregate win. The home leg of the match was especially a memorable one, with 83000+ strong Napoli supporters filling up the Stadio San Paolo in a 2-1 win over the Germans. Careca's opener was met with a deafening roar which almost tore the stadium apart, such was the support by the Naples faithful. But Napoli again lost the league title to a San Siro side, this time losing out to Internazionale.
Careca was a prolific scorer, considered by many as a legend who eclipsed even Maradona as the greatest Napoli player ever
Careca would ultimately win the Serie A with Napoli in his third season at the club, pipping Milan and Internazionale to the title. The next three years would prove frustrating for Napoli as they would not lay hands on another piece of silverware, with Careca forming a new devastating partnership with Gianfranco Zola. In the 1990 World Cup, Brazil were famously eliminated by Argentina in the second round, with Careca scoring two goals.
In 1993, after playing 196 games and scoring 85 goals, winning in Europe as well as Italy, Careca decided to move on to new adventures, joining Japanese club Kashiwa Reysoi. He also announced his retirement from International football, thus bringing an end to a decent International career, scoring 30 times in 64 games. The 1986 World Cup will forever be remembered as the World Cup in which a footballer with the name resembling a Brazilian clown became a household name.
In his first season in Japan, he helped Careca to J1 League promotion. Careca, who was 33 when he joined the club, maintained a strike rate of over 0.5 during his time at the Japanese club. In 1997, Santos decided to offer Careca a short term contract. He played as a bit part impact player for Santos, scoring 2 goals in 9 league appearances. At the age of 37, not a lot was expected out of him either, other than the experienced head and calming presence in the dressing room.
He then moved to Campinas and San Jose (RS) in the lower Brazilian league, drawing a close to his illustrious career in 1999, Careca made 500+ appearances in total, scoring close to 250 goals and leading the forward line for over 10 years for Brazil. Careca was successful, both on a personal and club level, with the FIFA World Cup being an elusive trophy.