Believe in "The Special One"
20 Dec 2017
Indifoot
0 Likes
0 Comments
665 Views
From school coach to one of the best in the world, from winning with underdogs to losing with the best, Jose has seen it all. But this isn't about any special final league, match or a comeback. Rather this is a defeat which Jose considered as the most beautiful defeat of his life.
Jose started his career as a school coach. He was later hired by Porto as an assistant manager. He then joined Barcelona and worked there for 4 years under the same designation. In 2000 Jose joined Benfica but this time as a manager. Next season he became a manager of another Portuguese side Uniao de Leiria.In 2002 Jose signed Porto.On 26th May 2004 Porto won UEFA Champions league, This was Jose's first miracle and now the world knows who Jose Mourinho is.
He joined Chelsea in 2004, helping them win their first Premier League title and second in very next season. Due to some conflicts with the club owner Jose left Chelsea in 2007 on the terms of a mutual agreement.

Jose Mourinho was the Chosen One at Chelsea
In 2008 Barcelona had manager vacancy and Jose was interested in this very same post. He prepared a presentation for the club's sporting director. But his style was blocked and instead, Barca turned to their old new lad in the business Pep Guardiola.
Jose joined Inter Milan. His two years at Inter were no less than a rollercoaster ride. He was sent off, banned and also had to witness some issues with the player. But despite all this, his spell was a miracle.
Inter won Serie A 2008-09 in Jose very first session but fans were unhappy with the unsuccessful run at European level.

Mourinho became the Special One at Inter
In 2009-10 Inter qualified for UEFA Champions League semi-final and Jose was the first manager in history to take three different clubs to this level. Inter now faced Barcelona. Jose had a chance to prove his former paymasters wrong.
On 20th April 2010 first leg was played at San Siro. Barca scored its first goal in the 19th minute but the result titled the other way and Inter won the match 3-1.
Before second leg Jose said winning UCL was his dream for Inter whereas for Barcelona it's an obsession, Obsession to win in Santiago Bernabeu, Madrid. But a dream is purer than obsession.
The reverse leg was played on 27th April 2010.Inter were 10 men down as Thiago Motta saw a red card in 28th minute. Following this Jose went to Pep who was talking to Ibra and said: "you think it's over, it's far from over". Pique scored for Barcelona in the 84th minute, but the result was in Inter's favour. Inter lost with 1-0 and the most beautiful defeat of Jose's career helped Inter to reach final.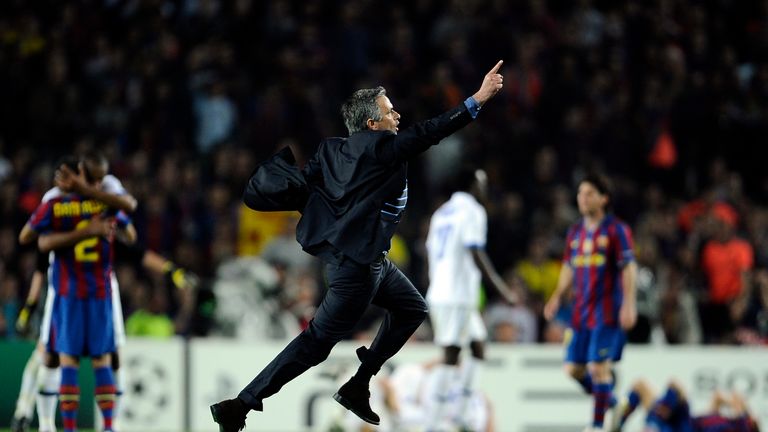 Jose had won the first round against Pep Guardiola
After the final whistle, he ran to the ground and celebrated with his players in front of his former home crowd. The sprinkler was brought out early, Jose said those were out to clear his player's blood which they left during the match. He stated this moment as the proudest moment of his career. Inter were in final after 38 years.
On 22nd May 2010 Inter beat Bayern Munich in Bernabeu 2-0 to win UEFA Champions league. History has been created Inter become first Italy team to win Treble.
Jose was named FIFA coach of the year for 2010.
Jose left with club same year with tears in his eyes and hands full of trophies and medals. There could not be better goodbye than this.
These special moments can only be produced by Special one-Jose Mourinho.