BREAKING NEWS: One club man - Daniele De Rossi leaves AS Roma
15 May 2019
Indifoot
0 Likes
0 Comments
880 Views
In a sad sad development, AS Roma has decided not to renew the contract of Daniele De Rossi. This means that the club legend will leave AS Roma at the end of this season, irrespective of whether he continues to play for another club or retires from club football. The emotional decision was taken by De Rossi and the club mutually, with an offer to immediately move into the boardroom on the table for the club captain and legend.
De Rossi has been a one-club man all his professional career, playing for AS Roma's youth team for a year before graduating into the club's main roster. He made his debut for AS Roma in the UEFA Champions League against Anderlecht. He was also used three times in the Coppa Italia in the season, but did to feature in the Serie A.
In the following seasons, De Rossi cemented his position as one of the greatest midfielder in AS Roma and Serie A. He scored his first ever professional goal on his full Serie A debut against Torino. His performances also saw him being regularly called up to the National team since the 2004 season.
De Rossi, now 35, has not known playing for any other club, with the gladiator famous for his no-nonsense, body-on-the-line defending and his passion for the club. He has been involved in some of the biggest moments in AS Roma's event past, with arguably the biggest moment being his penalty conversion to make it 2-0 against FC Barcelona en route to a famous 3-0 second leg win.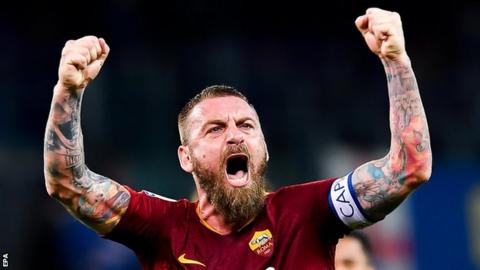 Here are the transcripts from De Rossi's press conference following his announcement to not renew his contract with AS Roma:
Daniele, it's a tough day for all of us as well as the Roma fans. After one particularly tough defeat, you once famously said 'I'm thankful to be born a Romanista' having spent your entire career here. Now you're more mature, would you have chosen differently?
"I'd do things differently on the daily, in terms of small decisions, a few things I've said. Some things on the pitch, bad moments where maybe I'd been the main culprit, like red cards I've picked up along the way. Things like that. But in terms of my choice to stay faithful to this club, no. I wouldn't turn back or change a thing.
If I had the magic wand, then I'd put a few more trophies in my bag but no one has that power. I'm calm with my choice to be here. Throughout the years I've certainly made some mistakes and it would be impossible to say otherwise."
You don't speak often, and you're known for making it count when you do where others would give into rhetoric. An example being this morning on twitter, a fan was saying 'we've won little but De Rossi represents almost another Scudetto victory for us.' Does this represent, for you, just more rhetoric? A meaningless consolation? Or is it the perfect way to coin the spirit of sacrifice shared between you and the fans?
"I take it as a simple matter of fact. They've showed it over so many years, during the ups and downs of years gone by, that they stick by me. And like I said myself, I've made the same choice towards them. I've never turned them in for the chance at a couple of hypothetical trophies elsewhere, even if there were three or four times where I really could have gone to join teams that looked like they had a better chance of winning than Roma. It's a choice you make as it comes.
Today, it would be a drama if either me or them starts to talk about how we could have left here to win something elsewhere rather than staying here wearing these colours. If I said it, they could easily have said 'yeah well what are you doing here, De Rossi? If you'd left, we could have had Iniesta come and had a better chance of winning.'
That too is simply a matter of fact. But as things stand, I see only a lot of love that I really think will last, even if it has to change in one way or another. I can't rule out that I'll be attending games in the stands. Something that I've never done as a player, but maybe as an ex-player you'll see me with a beer and a sandwich in the stands cheering on my friends."
When did you start to understand that this season would finish like this? And have you made any plans from 27th May onwards? I know playing in America was an idea for you…
"No, there was just the awareness of the hand that guides throughout the entire year. We all knew I had a contract running down and if there's never been a meeting made…
Even if a couple of times I spoke with Monchi and he assured me, but then he was no longer at the club anymore. I never went to anyone else to ask anything. It's true what [Fienga] said, there's been a lot of changes this year that certainly couldn't have helped. But this is a feeling I had all year long. The last time I signed on for two more years, and Francesco stopped playing the day after. Even with him there was a lot of uncertainty. So if you put two and two together, maybe you're expecting it.
As far as the 27th May, all I know is I'll be going on holiday. That's something I missed out on this season. I didn't take a single day of holiday in December, I stayed here to work on the knee. I've a big need to spend a little time not even thinking about football, even if after I'll have to think about something very new which is finding another club."
It's emerging from this press conference that there's a big distance between club and player. I'd ask De Rossi if you ever imagined that your goodbye to the club would be like this?
I always looked to prepare myself mentally without picturing how it would go. I know that I wouldn't have been happy about it even if it had been me deciding, because this job stays inside of you. This is my home. I stepped through these gates at eleven years old. The car drives itself here in the morning, I wake up and I can train here alone.
It will be difficult to get used to not doing that anymore. Is there a gap between us? A bit, yes. I want to play. They don't want me to. So there's a least a little difference there that counts. It's ok, even if I can't be happy about it. I've spoken with Guido and Ricky. One day maybe I'll speak with the president and Franco Baldini, I've got no problems with them.
I'm not sure how I imagined it would end. Maybe I thought differently. Yeah, maybe I pictured it being me saying 'look, just let me leave' and them holding onto me saying 'no, don't go. Keep playing on, keep playing on' (laughs). Maybe a little like that. But I have to accept it, if not I'm just making my own problems. And I move on.
For one thing, he's telling me I can be a great director. If I were a director I'd already have given a player like me another year's contract (the whole team laughs). I'm convinced I had a lot to give this season because, in my opinion and injuries permitting, on a technical level I held my own. I played well enough, even. I'm one of those who doesn't look to make problems in the dressing room, actually I always look to solve them.
So if I'm that good of a director I would have suggested they do otherwise. But it's down to me to accept it, and that's a part of our job and even a part of yours. When they send you packing, they put you on notice. They tell you in a matter of hours 'this isn't working anymore' and you can't do anything about it."