Caglar Soyuncu, Fikayo Tomori, Joel Matip, Harry Maguire
31 Oct 2019
Indifoot
0 Likes
0 Comments
946 Views
Defending has become such a thankless job in modern football. You're expected to keep a high line, you're expected to be fast as well as physically strong and you're expected to pass the ball and carry it from the back. The expectations leveled on a defender have never been so high. Under this immense scrutiny, there are some defenders, who are standing out for their ability on the ball, composure and technique.
Caglar Soyuncu, signed from Freiburg two years ago, never really got to into the first team, with Wes Morgan and Harry Maguire nailing down the starting spots last year. But with Maguire departing and Morgan losing his pace, Soyuncu has come in and stamped his authority in the Leicester backline.
His rise to brilliance would have been metric if not for Fikayo Tomori becoming the most important Chelsea defender out of nowhere. Frank Lampard started the season with Kurt Zouma and Andreas Christensen, with his team taken to the cleaners by Man Utd. A few games in, Lampard decided to play this 21 year old youngster, who has not been dropped ever since, such has been his level of performance.
Meanwhile, at Liverpool, Joel Matip was named the Player of the Month ahead of potential Ballon D'Or winner Virgil van Dijk. Even with such high standards at the back, Matip has shone, with a string of assured performances, before his untimely injury. Meanwhile, Harry Maguire has had a tougher transition to life at Manchester United. But with a team not-functioning well together and a shaky Victor Lindeloef alongside, Maguire has tried to be the best version of himself under the kosh.
Using the famous statistical model, which has so far thrown up some shock results, three parameters are once again defined to measure the effectiveness of a modern centre-back. He needs to have Physical prowess, he needs to pass Pep's philosophy of Passing from the back and he needs to be a firefighter against opposition attacks. Let's crack on!
Physical prowess
Physical prowess is best understood by how well a defender does under immense pressure from the opposition attacker. Some of the key attributes which can be used to measure physical prowess are Headed clearance, Aerial battles won and # fouled.
In terms of headed clearances, Joel Matip with 3.4 headed clearances per game leads the chart. He's closely followed by Harry Maguire, with 2.9 headed clearances per game, Caglar Soyuncu with 2.5 and Fikayo Tomori with 1.1. Matip leads the rankings for most aerial battles won per game with 5.9. Maguire is a distant second with 3.9, with Soyuncu winning 3.3 per game and Tomori winning 1.9 aerial battles per game.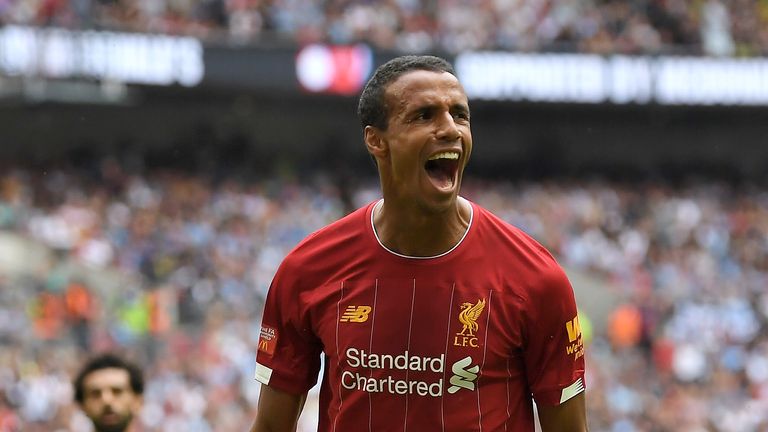 While aerial ability is a good indicator of physical prowess, the ability to shield the ball in possession and carry it under immense opposition pressure is also a marker of the physical prowess of a player. Both Tomori and Matip have been fouled 0.7 times per game, while Soyuncu was fouled 0.3 times and Maguire was fouled 0.2 times per game.
Most Physical defender: Joel Matip (Liverpool)
Passing from the back
The passing ability of a defender is crucial to rescue his team out of a tight spot and turn the tide on their opposition. Passing ability of a defender can be easily measured using simple attributes like # Passes/game, Pass completion %, # Passes forward and # Touches
Frank Lampard's Chelsea have built on Maurizio Sarri's possession style football by making the transitions more quick, bringing urgency into their game and are reaping the rewards. Tomori has been key to this style of play, racking up 76.1 passes per game. Matip is hot on his heels with 70.1 passes per game. Soyuncu is not far behind with 68.2 passes per game, while Maguire made 63 passes per game.
In terms of accuracy, Maguire wins an extremely tough and closely fought competition, with 87.94%. Soyuncu and Tomori are almost inseparable with 87.39% and 87.05% respectively. Matip is a distant fourth in comparison, with a decent 83.10%.
Among all the passes, Tomori with 23.9 forward passes per game leads the way in terms for forward thinking. Matip, Soyuncu and Maguire closely follow suit, with 22.1, 21.5 and 18.3 forward passes per game.
Tomori has also been actively involved in his team's play, with 89.1 toucher per game. Matip follows closely with 83.6 touches, while Soyuncu recorded 81.8 touches per game. Maguire was a distant fourth with 73.5 touches per game, which can be explained by Ole Gunnar Solskjaer's style of play at Man Utd.
Ball playa': Fikayo Tomori (Chelsea)
Firefighter
One of the most important job of a defender is to diffuse high-stakes situations like opposition attack and overloads. A good barometer for this ability are Blocks, Interceptions, and Tackles won.
3 players in Soyuncu, Tomori and Matip made 0.6 blocks per game, with Soyuncu winning the tie-breaker with 6 tackles, compared to 4 by the latter two. Maguire made 0.5 tackles per game and misses out by a whisker. In terms of interceptions, Tomori is leading the charts with 2.3 per game, while Soyuncu is second with 1.8 per game. Matip is a close third with 1.7 while Maguire clocked 1.2 interceptions per game.
Tackling is an art, which requires immense reading of the game and precise timing. Soyuncu seems to have mastered that art, with 1.8 tackles won per game. Compare that to the numbers clocked by the rest, and it looks like he is in a league of his own. Matip and Tomori, with 1.3 per game have made half the number of successful tackles as Soyuncu, while Maguire, with 0.3, is not even a part of this conversation.
Firefighter: Caglar Soyuncu (Leicester City)
So I have defined 3 parameters and 10 attributes to measure the effectives of these defenders. When I score them on these 10 attributes, the results might come as a bit of a shock!
Fikayo Tomori - 75% effectiveness
1. Joel Matip - 75% effectiveness
3. Caglar Soyuncu - 65% effectiveness
4. Harry Maguire - 42.5% effectiveness
Well, well, well! While Joel Matip has rightly been hailed as one of the best defenders this season, Fikayo Tomori, who has played the same number of games as Matip, has just been as good as him. His performances on the pitch prove that, while the numbers back that up as well.
Caglar Soyuncu has been really good for Leicester City, but his overall numbers can still improve, if he really is to become the best defender in the Premier League. Meanwhile, Harry Maguire needs to really up his game if he is to turn the fortunes of both Man Utd and his numbers. He has been a step slower than the rest three all season and he will require a mammoth effort to displace any one of the above three.
Do you agree with my analysis? Do you think I need to tweak my statistical model? Write to us at contact@indifoot.com or reach out to us on instagram, Facebook or twitter.