Champions League: Rd of 16 - PSG school Manchester United while AS Roma scrap past FC Porto
13 Feb 2019
Indifoot
0 Likes
0 Comments
502 Views
PSG had a dream. A dream to conquer Europe. A dream that brought them to the Theatre of Dreams, depleted and battered by injuries to their star players. But they also had a master tactician, a manager in Thomas Tuchel who outthought his counterpart in Ole Gunnar Solskjaer in Manchester United. United were on a terrifying run. They blew every team that came their way away. But in PSG, they encountered an immovable object.
PSG dominated the game from the beginning to the end. Angel di Maria, the returning Argentine, faced the wrath of the Red Devils. But it seemed to only boost his confidence and spur him on, laying on two completely different and expertly made balls for his teammates to score. In the middle of the park, while Marco Verratti had a boss of a game, it was Marquinhos who stood out the most.
The Brazilian was playing in an unfamiliar role, with centre-back being his preferred position, but he played like he was a veteran central defensive midfielder. His first touch was spot on 100% of the time, his movement with and without the ball was exquisite, his positioning to thwart out opposition attack and dig his team out of tight spots really showed the quality and ability of the Brazilian.
Presnel Kimpembe celebrating after scoring the first goal
There was a sequence of play in which Marquinhos received the ball at a very high pace. He stopped the ball dead with his first touch, and then used his body movement and exquisite leg work to move past three Man Utd players, Ander Herrera, Paul Pogba and Marcus Rashford, who had closed him down very quickly. This sequence of play was a regular throughout the 90 minutes, showing just how good a player Marquinhos is.
In the end, PSG take a two goal lead to the Parc de Princes, with Presnel Kimpembe, another PSG academy graduate who impressed, scoring the first from a di Maria corner and the superhuman Kylian Mbappe scoring the second from a lightning quick counter-attack, set up by none other than di Maria again. The tie looks all but over, especially with Lingard and Martial doubtful for the return leg in France, but with PSG, you never know! (Re: Barcelona 6-5 PSG)
In the other Champions league tie for the night, a star was born. Nicolo Zaniolo, the boy used as a bargaining chip by Inter Milan to get Radja Nainggolan, the boy who was called up by Italian manager Roberto Mancini even before he got a look in for AS Roma, stood up and took the game by the scruff of its neck. The Italian wonder-kid was the most influential player/playmaker on the pitch.
Every Roma attack passed through him and he ultimately made everyone take a note of him by scoring both the Roma goals, one exquisite finish in the far post through the legs of a Porto defender and another from an Edin Dzeko shot which hit the post and deflected kindly to him. The goals were well deserved with Roma really piling on the pressure on FC Porto. But just when it looked like things were getting comfortable for Eusebio di Francesco, the Roma defense switched off.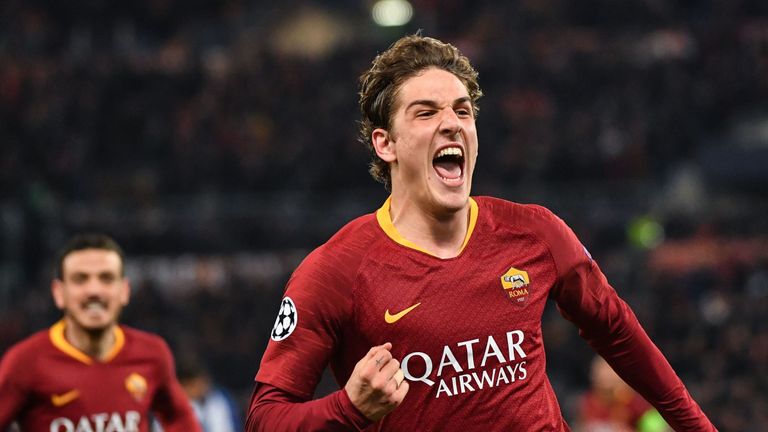 Nicolo Zaniolo, the Italian wonder-kid, celebrating his goal
They were caught ball watching as Suarez and Adrian Lopez played an unconventional and fortunate one-two, with Lopez latching onto a terribly miscued effort by Suarez to score the crucial away goal. It was a goal Sergio conceicao desperately wanted and in the end, both teams will be happy and anxious with Porto more than capable of grinding out a 1-0 at the Estadio Dragao.