CR7 Champions League
26 May 2018
Indifoot
0 Likes
0 Comments
541 Views
It was a final which was hyped up for over a fortnight, and it was a final which delivered. Gareth Bale scored possibly the greatest Champions League finals goal ever, Carvajal might be out of the World Cup and Ronaldo might have won his last CL finals in Real Madrid's jersey. Here from the players and coach of Real Madrid right here:
Gareth Bale
"It's a team game, I was very disappointed not to start, but it's more than 11 players. I had to make an impact, I did that. It's for other people to comment on – we know what we've achieved, how good we've been. We were disappointed in the league, but it's turned out to be a great season. We know how hungry we are. We always speak about it in the dressing room.
Very disappointed not to start the game; I felt like I deserved it. the best I could do was to come on and make an impact, and I did. Yeah, it has to be [the best goal I've ever scored]. Champions League final, no bigger stage. Just happy to get the win. When I come on, I want to make an impact.
I need to be playing week in, week out, it hasn't happened this season for one reason or another. I need to sit down in the summer and discuss things with my agent and take things from there. We know what we have achieved and we know how good we have been. It's turned out to be a great season winning the Champions League"
Sergio Ramos:
"We knew it'd be a difficult match. This side has shown its hunger and desire to carry on winning and we're a legendary side now. You need to appreciate what you're achieving. We knew how to deal with them and also play our own game!
Sometimes football shows you it's good side and other times the bad. Above all, we are fellow pros. Prompt recovery, Salah. The future awaits you.
The result is fair and we are very happy. I do not think there is anything else with Cristiano. He is an indisputable piece of our team and he will not be better than here. It was a game of great difficulty, but this team has shown this enthusiasm to keep winning, we have to value what we have achieved."
Zinedine Zidane:
"I feel great emotions. To live this and win three Champions League titles with this club and this team is magnificent. It's an unbelievable feeling and we don't quite realize what we have achieved yet. Gareth's goal is magnificent, congratulations to him.
We're going to think about what we've achieved and enjoyed the moment. We had a complicated season but to finish with this great joy makes us really happy. This is the status of this club, it's a legendary club. A club that has won 13 Champions Leagues so, of course, I'm happy to be part of this history too.
Cristiano Ronaldo:
"Who was the top-scorer once again? The Champions League should change and be called the CR7 Champions League. I have won five and I am the top goalscorer again, so I cannot be sad. It's always great to win the Champions League because I know how important that competition is, I have had a great Champions League from start to finish so I'm very happy."
Now we have to enjoy this moment. In the next few days, I will give an answer to the fans that have always been on my side. It was very nice to be at Real Madrid, in the coming days I will talk about it more.
No, no. I'm going to enjoy this moment with my colleagues. In the next few days, I will give an answer. We made history, that's what we were looking for, the future of any player is not important, the important thing is that we made history."
Luka Modric:
"It's something unbelievable, it's something historic. I don't know if anyone will repeat this in the future. It will be very difficult Twice was something amazing but this is heroics. We watched a movie yesterday about basketball teams like Chicago Bulls, Boston Celtics, and Los Angeles Lakers. When they won it three times in a row and they called it a dynasty. I think this it is a dynasty in football
We are champions and we need to enjoy this. Every title is special. The first one was after a wait of 12 or 13 years to win it for Real Madrid. Every trophy is special. This one, third in a row. I don't think anyone will repeat this. We have to enjoy it first and then prepare for next season and go for a fourth in a row."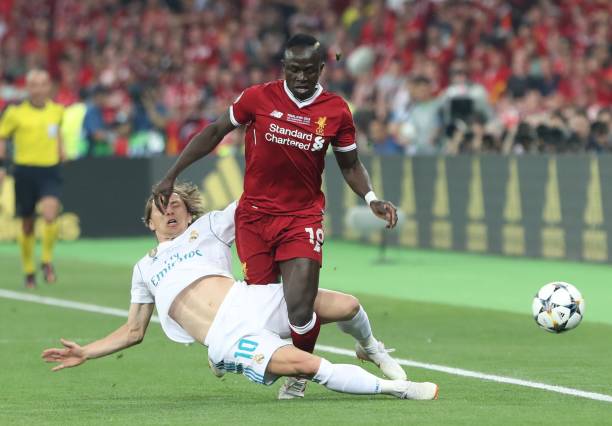 Karim Benzema:
Very important night for us. We are very happy. Now we are making history, we are going to continue, we have a formidable group. I am very proud of the season because we have the most important title."
Florentino Pérez:
"Everybody has the right to speak and I'm not going to talk about any personal case. I'm delighted that Cristiano has five Champions Leagues, like myself. Today is the day to celebrate another European Cup. Let us enjoy it. Cristiano is happy and will continue to be happy, I'm not here to talk about anyone. I'm going to celebrate with everything, the club has 13 European Cups, we have the best players in each position."