Deadliest attacking trio in European football - Part (3/5)
08 Feb 2019
Indifoot
0 Likes
0 Comments
1025 Views
Some of the big European clubs like PSG, Liverpool and the likes are equipped with some of the most fearsome attacking players in world football. These attackers have tormented opposition defense all season, twisting and turning the defenders inside out and making some of the best goalkeepers in world football look like mere mortals. Here is a look at some of the deadliest trios in world football right now:
6. Manchester City - Leroy Sane, Raheem Sterling and Sergio Aguero
It might come as a surprise that the front three of Manchester City are at a lowly 6th spot in the race to be crowned the best front three in Europe. Such has been the form of strikers elsewhere, coupled with the patchy form of City over last two months, that the exploits of Sterling Aguero and Sane, which is impress yet not deserving of top 5.
Leroy Sane has been at his impressive best once again this season, starting slowly and then making the left wing position his own. He has shrugged aside competition from Riyad Mahrez to deliver consistently. Raheem Sterling has quietly gone about doing what he does best, scoring loads of goals and creating tons of them. The stats back up their brilliant performances:
Games | Goals | Assists
Leroy Sane - 28 | 10 | 11
Raheem Sterling - 30 | 11 | 10
Sergio Aguero - 26 | 17 | 6
Total: 84 | 38 | 27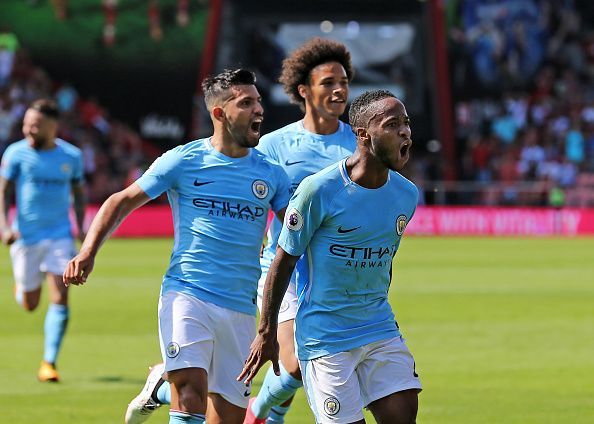 38 goals from the front three is quite exceptional, considering Leroy Sane is just 23 and Raheem Sterling is 24. Sergio Aguero struggled with injuries for few weeks, but that did not stop him from doing what he does best. The recent win over Arsenal being a great example. Sterling and Aguero's form make them one of the first name son the team sheet, alongside the brilliant Bernardo Silva. The trio will be key to help City keep pace with Liverpool who have been the trendsetters in the Premier League title race.
5. Tottenham Hotspur - Heung min Son, Lucas Moura and Harry Kane
For a team struggling with injuries, it might come as a surprise to see them above Manchester City and Juventus. But it is the struggles which have proved the importance of their front three. Heung min Son missed a lot of games due to international duties while Harry Kane has been out for a month. That has not stopped the Spurs trio to kick-off the top 5 in our list of deadliest trios:
Games | Goals | Assists
Heung min Son - 29 | 13 | 5
Lucas Moura - 30 | 8 | 0
Harry Kane - 30 | 19 | 5
Total: 89 | 40 | 10
Harry Kane hasn't stopped scoring, showing just how good and consistent he is, but it has been the form of Hueng min Son that has been so promising for Spurs. Son has stepped his game up to become a sure-shot starter alongside Dele Alli and Christian Eriksen, making it a very attack minded line up. Add to that the form and goals of Lucas Moura, especially his brace against Manchester United, making it a welcome headache for Mauricio Pochettino to accommodate all the attacking talent.
Pochettino has done well to do just that, keeping his team in the title race and pulling away from the 4th place scrap and keeping pace with Liverpool and Manchester City. If Harry Kane continues from where he left off after he returns from injury, this just might be the year for Tottenham and Pochettino to win the Premier League.
Stay tuned to find out which teams boast some of the best attacking trios in Europe. There are some surprise packages in the list along with some of the usual suspects. The stats used for this series of articles are as of February 6th, 2019.
To make sure you don't miss out on the next in this series of articles, download the indifoot app. You can also follow us on instagram, facebook and twitter.