East bengal and Mohun Bagan could move to the ISL
27 Jun 2018
Indifoot
0 Likes
0 Comments
556 Views
After Mohun Bagan's annual general meeting, club president Swapan Sadhan Bose made a shocking revelation, he claimed in front of the media that East Bengal might turn up to play in the upcoming season of the much coveted Indian Super League (ISL).
It came to notice, that East Bengal officials were in contact with the AIFF and IMG Reliance regarding a possible opportunity of making it into the Indian Super League either this year or the season after. The Red and Gold officials got in touch with the AIFF during the Intercontinental Cup to seek confirmation regarding participation in ISL, that is, if they manage to strike a good enough sponsorship deal that will aid them to satisfy all the required financial criteria of the ISL.
AIFF then got in contact with the Governing body of ISL, who then gave a green signal to the Kolkata Giants to play in the ISL, but only if they manage to fulfil all the financial criteria.
East Bengal will share the details of their new sponsors with AIFF President Praful Patel within the next 10 days, who would in turn discuss the same with senior officials from IMG-Reliance to check if their Sponsor have enough potential to support the Kolkata based team, at least for the next 10 years.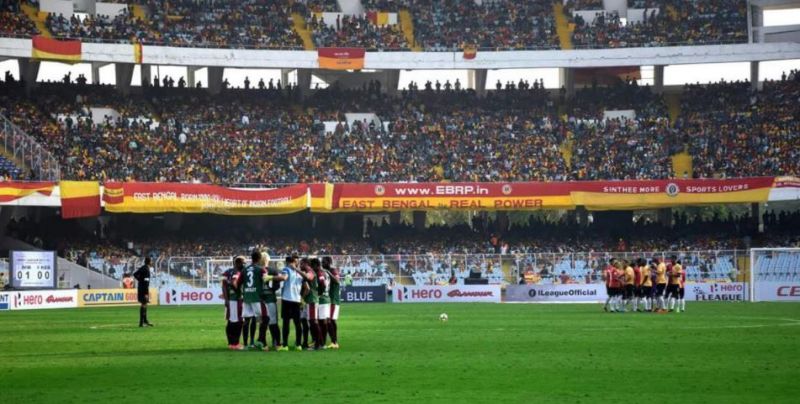 Therefore, if everything goes right, then we might well hear the official announcement of East Bengal's participation in the ISL by next month or so.
On the other hand, East Bengal's Arch Rival, Mohun Bagan too is very keen to be a part of ISL and is presently looking at every possible avenue to make this happen.
Swapan Sadhan Bose, stated that ISL committee has allowed them to play from Kolkata and just like East Bengal if they too can manage to rope in quality sponsors then they will also get the go ahead.