Editor's pick: How Oscar Tabarez converted Uruguay into a conveyor belt of World Class young talents
17 Jul 2018
Indifoot
0 Likes
0 Comments
574 Views
Luis Suarez, Edinson Cavani and Diego Godin. These are the players which typify the Uruguayan grit and ragged strength and technical prowess. They are all almost the same age and were part of a talented group of youngsters who all moved out of Uruguay at a young age and made it big in Europe. They were the early graduates of the famous Oscar Tabarez youth system.
Jose Gimenez, Rodrigo Bentancur and Lucas Torreira are few of the players who are young and talented and are playing for big clubs in Europe. While Gimenez is a first choice centre-back of Diego Simeone at Atletico Madrid, Rodrigo Bentancur is slowly establishing himself as an important figure in Max Allegri's Juventus side. He started the crucial Champions League game against Real Madrid and Tottenham Hotspurs. Meanwhile, Lucas Torreira was a shining light in Serie A last season with Sampdoria, and has earned a big money move to Arsenal on the back of his wonderful season and World Cup exploits.
While the profile of some of these players is impressive, nothing tops the man that Tabarez himself is. The 71 year old El Maestro has been diagnosed with the Guillian-Barré syndrome and has mostly been seen walking in the dugout area on crutches. But it has not deterred him from his mission of surpassing the 4th place finish of 2010. Tabarez has been the coach and manager of Uruguay since 2006, a whopping 12 years. Those years have included a Round of 16, a quarterfinal and a semifinal exit.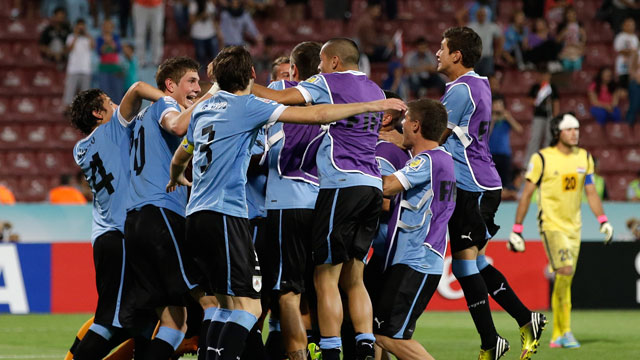 In South America, they have been even more prolific, making it to the 2015 quarterfinals, 2007 semifinals and winning the 2011 Copa America. This has been possible mainly due to the system that he has employed for youth in Uruguay. From Monday to Wednesday every week, the top 30 clubs in Uruguay send their brightest young talents to the National team camp, where Oscar Tabarez and his team of coaches work on what their best position to play in is, which position in the national team needs young talents and train them into the Uruguay National team system.
The dying Uruguayan football league has meant that doing this has become more and more difficult. Any promising talent, at a very young age, gets snapped up very quickly by other South American leagues and European leagues. Yet, the conveyor belt has not stopped. Matias Vecino, Nahitan Nandez and Diego Laxalt are some other examples of players who are constantly featuring for the national team, thanks to their quick adoption of the Tabarez style of football.
These players have had 2-3 years of playing time in Uruguay which Tabarez made the most of, before they moved on to bigger clubs like Inter Milan and Boca Juniors. This youth development program also instills the feeling of loyalty and passion for the country, with the players showing it in their performances. Youth development has resulted in Uruguay Under-20 team reaching the finals in the 2013 World Cup and the semifinals of the 2017 World Cup. Their Under-17 team reached the 2011 World Cup finals as well, proving the pedigree of Tabarez.
Giorgian De Arrascaeta, Maxi Gomez and Federico Valverde and the new up and coming talents, who will soon replace the ageing stalwarts to enable a seamless transition into the next generation of Uruguayan talent pool. Suarez and Cavani will be long gone, Godin will have hung up his boots, but the wily old coyote that is Oscar Tabarez will forever live on as their manager, and eventually in the memory of Uruguayan hardcore supporters as a man who revolutionised the football of such a tiny nation and developed some of the most successful and talented players who went on to leave their mark on the country.