European hangover for Man Utd and Chelsea, City & Liverpool impress while Arsenal's duo strike again
24 Sep 2018
Indifoot
0 Likes
0 Comments
421 Views
It was an interesting week of football in the premier league as the top 6 from last season tasted European football and 3 games a week for the first time this season. The novelty of squad depth and the trust shown by the managers on their reserve players showed its fruits as Chelsea, who did not make a whole lot of changes, suffered, while Arsenal and Liverpool cruised.
The week began with a mouth-watering clash between the no holds barred footballing philosophy of Fulham and Watford FC. It was an entertaining clash, one full of open chances and end-to-end football. The game started with a quick and incisive move which saw Andre Gray score in the 2nd minute. Fulham dominated the ball, but it was only in the 78th minute Aleksander Mitrovic, their in-form striker, scoring his 5th of the season and bringing Fulham back into the game. The game petered out in the end as both teams accepted the draw.
6 games were scheduled for the evening slot, with Manchester City travelling to Cardiff City, the ground where Pep Guardiola challenged all the referees to protect the players as Sane suffered a horrific injury. This time around though, it was smooth sailing for the Men in Blue, who bounced back from their European nightmare to get back on track and keep pace with Liverpool. The first half was all about incisive play, Sane's dribbling, Aguero's labour and Bernardo Silva's smart passing.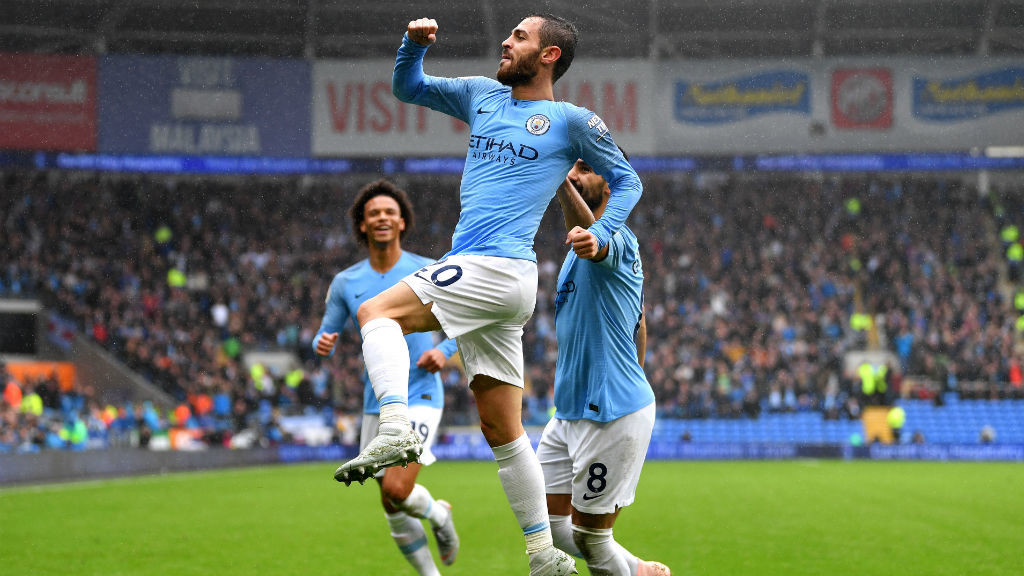 Aguero pounced to open the scoring, with Sane doing all the good work in creating the chance. It was Sane again who put in a short cross which was helped on by Bernardo Silva to score the second. The third goal though, was a thing of beauty. It was a beautiful team move which was finished off with a peach of a finish by Ilkay Gundogan to mark the end of a dominant first half. The second half saw another talent come to the fore, as Riyad Mahrez replaced Sergio Aguero and tore Cardiff apart. He scored his first goal for City, finally, as they won comfortably to keep the pressure on Liverpool.
Crystal Palace played Newcastle at Selhurst Park in a game which could have been given a miss. Palace were dominant, they created the best chances of the game, but somehow the ball did not want to go in. Sakho squandered a gilt-edged chance in the dying minutes of the game as Newcastle half Palace for a hard fought draw. At the King Power Stadium, Leicester City were shocked by an early Huddersfield goal by Mathias Jorgensen. But they roared back with a beautiful counter-attack, with Kelechi Iheanacho finishing it off with a measured finish. James Maddison scored a beautiful free-kick to put Leicester ahead in the second half, with Jamie Vardy scoring his customary home goal to add icing to the cake.
At the Anfield, Liverpool fielded a front-heavy lineup, with all of Mo Salah, Roberto Firmino, Sadio Mane and Xherdan Shaqiri starting for them. For all the fire-power, it was a bizarre own goal by Wesley Hoedt that put Liverpool in front. He tried to cushion a cross from Mo Salah into the path of goalkeeper Alex McCarthy but he got his angles horribly wrong. It brought a nervous Anfield onto their feet. Even though Liverpool were dominating and created the best chances, the space left by their attacking full-backs were occupied by Shane Long more than once.
The second goal soon followed, as Joel Matip guided the corner from Trent-Alexander Arnold expertly into the near post to double the lead. Xherdan Shaqiri then stepped up from a dead ball situation and saw his shot rise above the wall and dip quickly. But it was not quick enough to go in, hitting the post. Thankfully for Liverpool, Mo Salah was right on queue to bundle the ball in from half a yard to finish Southampton off in the first half making for a comfortable second half at the Anfield.
The same comforts weren't afforded to Manchester United though, who saw Fred scoring his first goal for United, completely against the run of play in the first half. He was set up beautifully by Paul Pogba, who killed a flight ball with his cushioned touch, guiding it into the path fo Fred, who finished the chance off neatly. But Wolves did not sit down and they did the exact same thing to United.
In a period of United dominance, the impressive Ruben Neves won the ball off Pogba, and set Helder Costa free immediately. Costa dribbled at Shaw, but with the ground quickly disappearing in front of him, he sent in an unconventional low cross from mid-air. Raul Jimenez tried to create some space to pull the trigger, but with Lindeloef marking so closely, he instead decided to tee Moutinho up. Moutinho accepted the invitation with aplomb, finishing it off with some authority. End to end stuff ensued, with Adama Traore coming close thrice. Ultimately, both teams would have felt a little hard done by with the draw, but it was a fair result, reflecting the dominance of both teams in each half.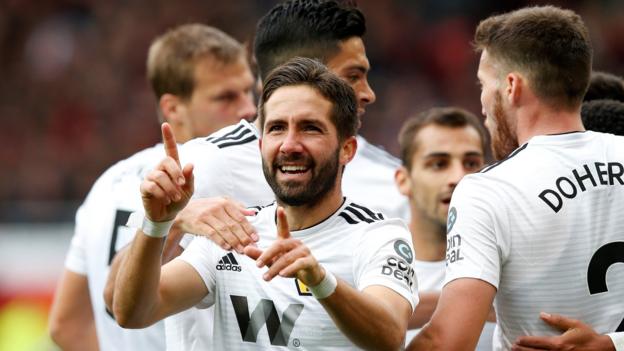 In the 10PM kick-off, Harry Kane scored an important penalty while Erik Lamela finished off a free-flowing team move to put Spurs in cruise control against Brighton. Anthony Knockeart scored an absolute beauty to bring Brighton back in the game, but it ultimately proved too little too late for them, as Spurs won their first game in 4 outings.
Sunday saw West Ham take on Chelsea FC at the Olympic stadium. With Arnautovic injured, Pellegrini made a switch in his tactics, playing with three in midfield and started Michael Antonio as a centre forward. Even with such a defensive set-up and just 29% possession, West Ham created the best opportunities of the game, with Antonio seeing a lot of good opportunities go by. In the end, Sarri would be delighted to see his sides unbeaten run intact, while West Ham are building some good momentum, having lost their first four Premier League games.
The last game of the week saw Arsenal take on Everton at the Emirates. The first half was evenly contested with Richarlison and Walcott testing Cech more than once while Aubameyang and Ramsey created decent goalscoring opportunities. With the match in the balance at the end of the first half, Arsenal did what they have done best this season. They came out with purpose and intent, and Alexandre Lacazette, the much maligned French striker, curled a delightful shot which arrowed into the top far corner.
The second goal had a touch of luck associated with it. Mesut Ozil lead a lightening quick counter-attack, reaching the byline and cutting back a delightful low cross for Ramsey. But the latter could not bring it under control and saw the ball break for an offside Aubameyang, who finished it off calmly. Arsenal bucked down and fought hard to achieve their first clean sheet of the season. With four wins in four, Unai Emery is on a roll and it will be interesting to see how he fares this season at Arsenal.