"Everyone would like to play like Spain and France" - Igor Stimac
05 Jun 2019
Indifoot
0 Likes
0 Comments
656 Views
The big day is here. India is ushering into new and uncharted territory. We will be facing Curacao, a team 19 ranks above us in the King's Cup opener. It will be the first game under Igor Stimac and the start of a new long-term project to get the team into the World Cup.
With the qualifiers starting in September, these friendly tournaments are crucial for Igor Stimac to assess his players and settle into a line-up and formation to execute his style of play.He will be looking to build his team around Captain Fantastic, Sunil Chhetri, with young and exciting talents like Anirudh Thapa and Sahal Abdul Samad behind him.
Ahead of the opening game against Curacao, Igor Stimac had a chat with the media to talk about Indian football, the difference between India and Croatia and how he sees the King's Cup:
How did you find the Indian atmosphere as compared to Croatia?
"I can't say what is different because the last 11-12 days have just been about the hotel room and the pitch. So, there are no conclusions yet. I am excited about the work of our team and the AIFF is excited about the new approach we have taken. I hope that this long-term project will bring us success and bring India back as a force in Asian Football."
How do you see the journey from today to September?
"This is the first phase and the qualifier in September is what's important. We have a fair time to think about Vietnam in the meantime. Only in the last few days did we see a few games of our opponents Curacao. I hope we do well and then we can analyze and find out the flaws in the players.
"My players are hoping to play Thailand again (in the finals). We have nothing against our opponents - the quicker we face the stronger teams, the better for us as we will know about how strengths and weaknesses and what we have done in the past weeks."
Do you think India is at a disadvantage by arriving later than Curacao to Thailand?
"The conditions here are similar to Delhi, where we trained in the last two weeks. I don't see any problems with the condition here because there was a lot of heat in Delhi too. For us it's important how we composed we will be on the pitch, apply what we have done in the last two weeks and stay concentrated. We don't care about the heat, pitch or how big the crowd will be. It's all the same for us."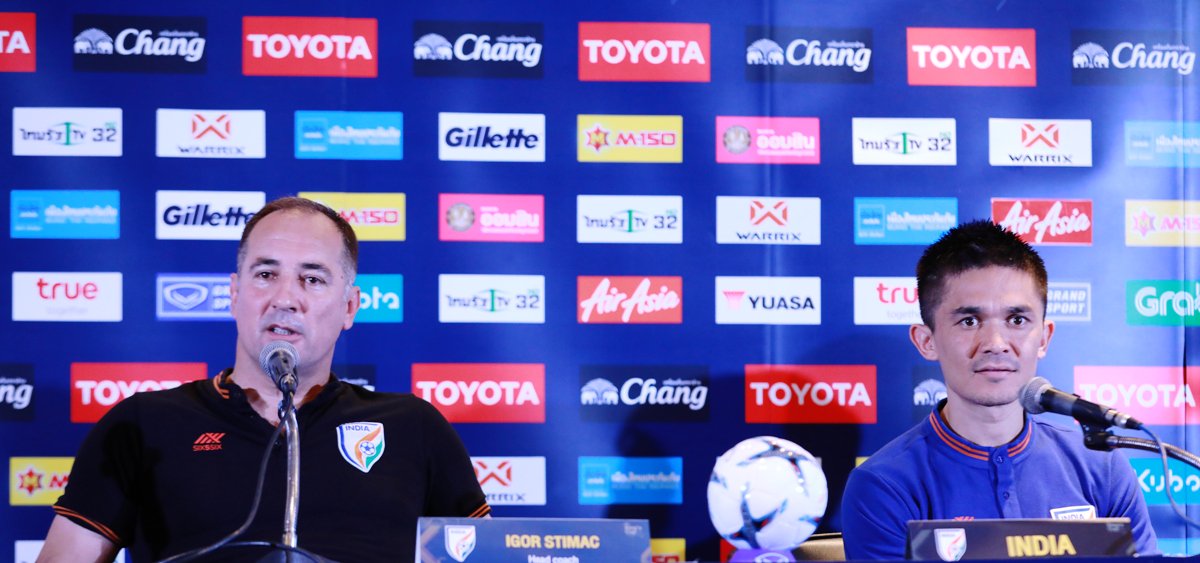 Sunil Chhetri recently came out and said that you had promised him "European" opponents in the future. What are your thoughts on that?
"Everyone would like to play like Spain and France but that's not possible for many of us. It's a long way to come to that stage. We have to think about playing football that will get us results. My players know very well that I insist on low and quick passing, movements.
You won't see us kicking the ball around all over the place without a clear idea. We will do what is needed to be done. We are going to try but how successful we are going to be is another question."
What are your expectations from team India in the King's Cup? Can you guess who will score our first goal against Curacao? If yes, then send us your predictions here. For more news and latest announcements, download the indifoot app or follow us on instagram, twitter and facebook.