Jayesh Rane
11 Oct 2017
Indifoot
0 Likes
0 Comments
909 Views
A Mumbaiker through and through, Jayesh Rane was born and brought up in the financial capital of India. After learning the trade through the youth ranks at Mumbai FC, Jayesh Rane caught his big break after scoring 13 goals and becoming the top scorer in the under 20 I-League for Mumbai FC during the 2011-12 season. This prompted the board to fast track Rane into the first team for the next season.
Jayesh made his debut against Salgaocar in November 2012 and slowly became a regular in the Mumbai lineup. Rane lined up as an attacking midfielder and his creativity caught the eye of both his fellow players and the fans alike. Rane became a fan favourite both because of his performance and his after match ritual of taking a selfie with a group of fans.

Jayesh Rane playing for Mumbai FC
Jayesh's performance for Mumbai FC did not go unnoticed as he was snapped up by Chennaiyin FC on a short loan deal in 2014. He made his debut in his first season of the Machans against the Delhi Dynamos as a half time substitute for Balwant Singh. He featured four more times in that season but could not make the impact that he had for the Under 20 team.
But the exposure of ISL helped Rane become an ever present fixture in the Mumbai FC lineup, making 16 appearance in the 2014-15 season. He again went back on loan for the 2015 season of ISL and he registered his first assist for the Machans against FC Goa.

Jayesh Rane playing for Chennaiyin FC
Rane was only 22 and he had already played three full seasons for Mumbai FC and started alongside players like Marco Materazzi, Alessandro Nesta, Elano, Mikael Silvestre and Steven Mendoza. Rane's profile was growing by the season and ultimately in 2015, he earned a call up for the National Under 23 team which would participate in the AFC U-23 Championship Qualifiers. He made his full International debut against Uzbekistan U-23 team and ended up on the losing side.
Marco Materazzi, his coach at Chennaiyin FC, was particularly impressed by what he saw of Jayesh. This is what he had to say of the player: "Jayesh was one of the first players we retained from season one and we are glad to have someone with such a great potential. His attitude is very European. He always works hard and wants to improve his game. From the mentality perspective, Jayesh is perfect and that will help him to become a top player and also make a great impact for the national team."
Jayesh won accolades, both for his club and on an individual level. He was voted as the FPAI Fans Player of the year for 2015 and he also won the Indian Super League with Chennaiyin FC in 2015, coming on as a 68th minute substitute for Jeje Lalpekhlua in the finals as Chennaiyin overturned a 1-2 deficit in the stoppage time to win 3-2.
The 2016 season was more productive than the previous ones for Rane as he scored two goals for Mumbai FC. Jayesh had convinced Chennaiyin FC with his performances in the past two seasons as a youngster and hence they decided to buy him from Mumbai FC for 125,000 Euros. Jayesh repaid the faith put in him by Marco Materazzi by opening the scoring for Chennaiyin FC in the ISL 2016, against Atletico de Kolkata. His performance in that match earned him the "Emerging Player of the match" award.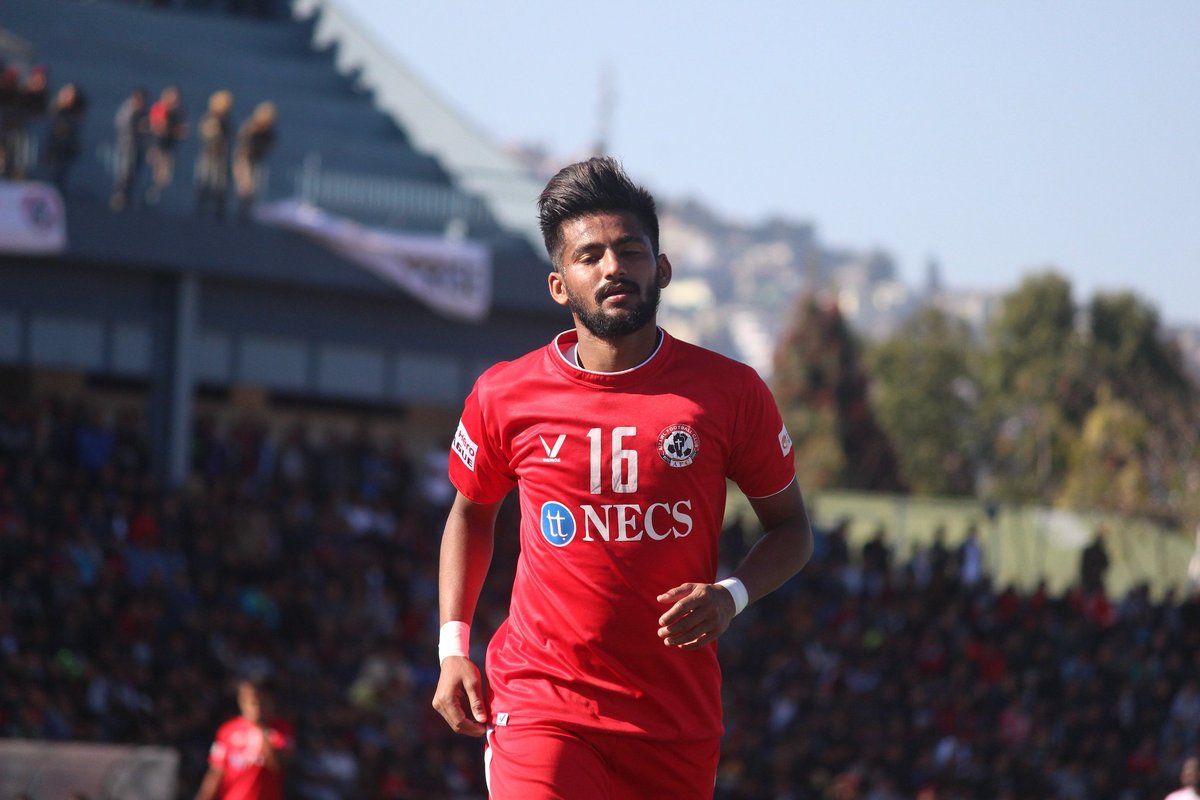 Jayesh Rane donning the reds of Aizawl FC
Rane knew he had talent, loads of it, but there were very few instances if him playing at his full potential. But that was about to change. Aizawl FC, managed by his former coach from Mumbai Khalid Jamil snapped up Jayesh Rane after the third Season of ISL concluded on a loan deal from Chennaiyin FC. He was given the No. 14 jersey and he started as a free floating attacking midfielder for Aizawl FC. Rane terrorised opposition defence, full- backs in particular with his powerful runs on the ball and terrorising runs off the ball. His movement was excellent and although the stats will not reflect that, with only two goals for the club, watching him play made you quickly realise how important he was in connecting the midfield with the strikers.
Rane was the first name on Jamil's team sheet as Aizawl put together a string of good performances. From Relegation battlers, Aizawl suddenly became firm favourites to win the league. Aizawl showed that a team of good 11 players can defeat a team of 2 or 3 exceptional players any day. The 23 year old Jayesh started in all the matches for Aizawl as they secured an unlikely Title after being relegated the previous season.
Much was made of the coach and the strikers of Aizawl, but the one player who's contribution went under the radar was Jayesh Rane. The Mumbaiker had truly announced himself onto the big stage and proven his talent by giving consistent performances for his club.
Still just 24, Jayesh has got all of his best years in football ahead of him and if he keeps stringing together consistent performances, he might go down as one of the greatest attacking midfielder of this generation for India at both the club and National level.