Jean-Pierre Papin
05 Oct 2017
Indifoot
0 Likes
0 Comments
1222 Views
The only player to win the Ballon D'Or when playing for a French Club, Jean-Pierre Papin is a Marseille legend.
Papin was depicted to be a dumb footballer with his only aim in life being the discovery of different ways to score goals. But once the striker started experiencing some tough times in Italy and Germany, the show became more sympathetic, urging him to return to France as it was Gods wish to see him play in France.
Although players like Eric Cantona, papin and David Ginola featured for the French National team, they were regarded to be a part of the cursed generation as they featured after the golden era of Michel Platini and co and before the dominance of world beaters Zidane, Henry and co. But Papin enjoyed plenty of success at the club level, winning a host of trophies as well as individual honours.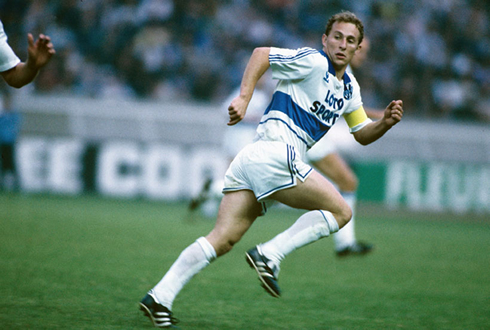 Papin was a Marseille legend as he enjoyed his most successful years with them
Papin began his youth career at INF Vichy, were he played for one year before he was scouted and snapped up by Valenciennes. Papin had a brilliant first season with Valenciennes, scoring 15 times in 33 games. His impressive form earned him a trip to Belgium as Club Brugge bought him. He scored 20 goals in 31 appearances but appeared to be unsettled off the pitch away from his home country. His wish came true as Marseille swooped in to rescue him out of Belgium. He joined Marseille as a 23 year old and spent his prime years in the French league.
His impressive form also gave him the ticket to the French National team as he played in the 1986 World Cup finals in which France finished 3rd. He had made his National team debut in 1986 and his impressive performances had earned him a spot at the biggest football spectacle. Papin played 44 matches for Marseille in his return to French football, but he could only manage 13 league goals and 16 overall. But things started turning around as he scored 19 League goals and 23 in total in his Second season for Marseille, thus becoming the highest scorer in French league.
He scored 33, 38, 36 and 38 goals in his next four seasons at Marseille as they won the the French league four times in a row and completed a domestic treble in 1989. They also reached the UEFA Champions Cup finals in 1991, losing out to Red Star Belgrade on penalties. Papin's performance in the year 1991 were particularly impressive as he his individual brilliance earned him the Onze D'Or, the Silver award for the FIFA World Player of the year, the IFFHS World's Top Goal Scorer of the Year as well as the Ballon D'Or.
It was a prolific goalscoring year for the best striker in French league and perhaps World football as Papin started attracting interest from a host of European Super clubs. In 1992, Milan came calling and Marseille and Papin could not say no. He joined the Rossoneri for a World record fee of £10 million, but struggled to adapt to the Italian football. His two years were injury plagued, and with intense competition for the strikers positions, Papin had to make do with a position on the bench, even when he was fully fit. In all, Papin made just 40 league appearances for the Red and Blacks in two years. Although he had a frustrating spell on an individual level, Papin won everything with Milan in his two years, winning back to back Scudettos, back to back Italian Super Cup as well as the UEFA Champions League in 1994 after losing the finals a year ago to his previous club, Olympique de Marseille.
Papin won the Ballon D'Or in 1991
On the National team front, while Papin was a prolific scorer, France was in a bad phase. They had missed out on the 1990 and 1994 World Cup finals and were knocked out in the group stage of the 1992 UEFA Euros. It was a unique period in French football. While the French clubs were regularly featuring in the latter ends of the European competitions, France National team was findig it difficult to qualify for the International events.
The French National colours was the only colour in which he didn't enjoy a lot of success
Papin was in search of regular playing time and Bayern Munich promised to provide him just that. Hoping to restart his career, Papin joined Bayern in 1994, but his season never started as he could only make 7 league appearances and 12 in total, as his season was destroyed by constant injuries. In his next season, papin was terribly out of form as well as plagued by injuries as he could only find the back of the net 3 times in 28 appearances. Bayern though, won the Uefa Cup by defeating Bordeaux in the finals.
Papin had a trophy laden two years at Milan
Papin and Bayern Munich knew that the former Ballon D'Or winner was finding it difficult to adapt t German football and was terribly homesick. Hence a deal was struck with Bordeaux to bring the player back to his home country. The 33 years old Papin was a rejuvenated man again as he was back to his best. He scored 17 in his third homecoming and first season at Bordeaux. Bordeaux lost the finals of the Coupe de La Liga to Strasbourg, finishing the season without a trophy. But Papin didn't care. He was a happy man on the field, back in familiar surroundings and was doing what he did best, score goals.
Off the field, though Papin was affected by the medical condition of his eight month old daughter. She was suffering from serious cerebral lesions. It is the growth of an abnormal tissue over or around a brain tissue and can cause a variety of abnormalities. Papin and his wife, Jean-Pierre, set up an association called the "Neuf de Coeur" or "Nine of Hearts" to help and educate people about Brain lesions.
Papin, now 34, was losing his fitness and stamina as he became an impact substitute and a Cup player. He scored 8 Cup goals and 14 overall, making 32 appearances in total. Papin's career was winding down as he knew he did not have a lot of football left in him. The following summer, he made a switch to Guingamp in the second division of French league even though he had an offer on the tale from an English club, Fulham. But the fact that it was plying it's trade in the 3rd division of English football would have been a deal breaker. In the end Papin played in his home country, but his season was defined as a battle against injuries.
Papin ultimately succumbed to the constant injury troubles as he could only make 10 league appearances for Guingamp, scoring 3 goals. He only lasted 3 months as he retired midway through the season. It was a sorry end to the career of a brilliant player who had a terrific 20s and a dissapointing and injury riddled 30s. Jean-Pierre Papin, with his 30 goals for France, has cemented his name in French hall of fame as the second highest scorer after Michel Platini, but it was at Marseille were he tore apart opposition defense and terrorised the goalkeepers with his deadly finishing and an eye for the goal. He has scored some irresistible volleys and was regarded as the greatest volleyer of the ball. 542 appearances, 303 career goals and one Ballon D'Or, Jean-Pierre Papin is a folklore hero, quite literally.
Winding down his career at Bordeaux and Guingamp