Jose Maria Gutierrez Hernandez a.k.a. Guti
10 Oct 2017
Indifoot
0 Likes
0 Comments
1484 Views
"When I was playing, going to the Calderón was an easy game."
It is a general consensus that a player who has developed as a striker will find it extremely difficult to move into a midfielders role. Wayne Rooney is the obvious contradiction that comes to mind. But there are not a lot more players who can contradict the general consensus. Jose Maria Gutierrez Hernandez, or as he is more famously known, Guti, started his football development in the famed Real Madrid academy at a tender age of 10, playing as a striker.
Guti moved into the attacking midfielder role, playing as the second striker sometimes. In 1995/96 season, he made the jump from the Real Madrid C team to the B team, cranking it up with 11 goals in 26 appearances as an attacking midfielder. In general, his movement and creativity drew the attention of one and all. Thus, after spending just half a season with the Castilla, he was drafted into the first team setup.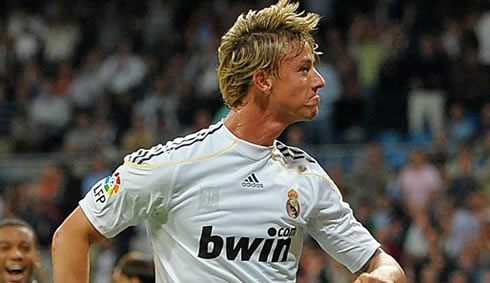 Guti took some time to settle into the Madrid lineup, as he found chances hard to come by
Guti made his first team debut in the 4-1 mauling of Sevilla in December of 1995. But with Seedorf making the attacking midfield position his own, Guti saw chances hard to come by. Guti played just 9 matches in his first season with the first team, scoring one goal. The following season also saw chances hard to come by, as he almost doubled his appearances tally, playing 17 games. But he did manage to win the La Liga winners medal, winning his first of five La Liga titles with the Blancos.
Guti started the new season with a Supercopa de Espana trophy, ending the season with the UEFA Champions League trophy. Guti was in his third season with the first team of the club, but had still not established himself as a regular. Guti was riding high on confidence, with his summer exploits at the UEFA Under-21 Euros, which Spain won, earning him some well deserved fame and plaudits. But there was going to be more frustration for the versatile Spaniard as he could only make 17 league appearances, playing 22 matches in total, scoring just a single goal. He did, however, win the Intercontinental Cup with Madrid, thus adding another trophy to his already impressive cabinet.
A dip in Seedorfs form, coupled with strong performances by Guti pushed his stocks up, as he made 28 league appearances in the 1998/99 season, playing 36 matches in total and scoring 3 goals. The following summer, Clarence Seedorf was sold, making way for Guti to fill the void left by the versatile playmaker. Guti had a mixed start to the season, getting sent off against Real Sociedad for kicking his opponent who was already on the mat. But he turned it around, eventually scoring 8 goals in 45 appearances, winning the Champions League.
Guti had finally arrived at the big stage, putting in consistent performances week in week out, and maturing from a promising player to a great attacking midfielder. But in the 2000/01 season, he was forced to play as a striker for most of the season due to the recurring injury troubles of Fernando Morientes. He replaced the striker with some conviction, scoring 14 league goals and 18 goals overall in 46 matches, easily his best season in terms of numbers. His performances helped Real Madrid clinch the La Liga title with a makeshift striker.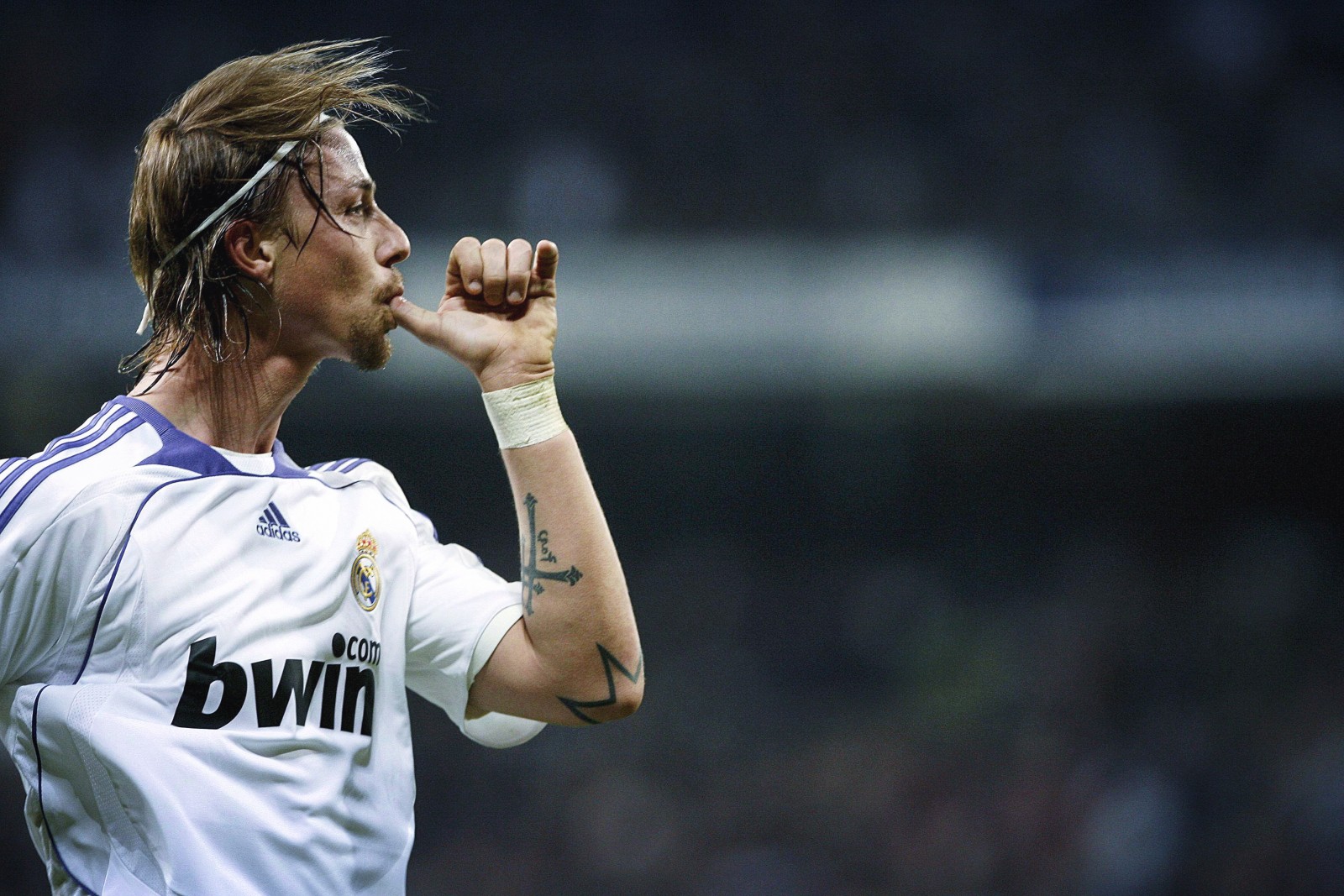 When asked, Guti played as a striker, second striker, attacking midfielder and deep lying playmaker. Talk about dedication.
Guti was finally starting to deliver on the early promise that he showed with the Castilla side. Guti, who made his International debut in 1999, was still unable to pin down a regular starting spot with the National side, even after progressing through every youth level for the National team. Even a breakthrough campaign in 2000/01 did not increase his stocks when it came to National team selection. The main reason why Guti divided opinions on such a large scale was the fact that he was once regarded as the poster boy of Spanish football, the next big player who would compare with the Zidanes and Ronaldos. But that never materialised, and while Guti had a solid start to his career at Real, he never reached the heights expected of him.
Real bough the Brazilian Ronaldo, thus shifting Guti back to the midfield position. Thus the goals dried up, but the consistency and creativity was ever present. Over the next two seasons, Guti made 100 appearances, winning the Supercopa de Espana as well as the Champions League in 2001/02 by contributing 3 goals in the European competition. Guti contributed 6 goals in just 7 Cup games, as Madrid lost in the finals. The next season started with a UEFA SuperCup and Intercontinental Cup success, followed by a third La Liga conquest. Guti scored 13 goals in all competition, cementing his place in the Madrid line up as he made 54 appearances in all competitions a personal record.
The highs of the 2001-2003 period were followed by the lows of 2003-2005 as Guti suffered a horrible dip in form. Guti played 84 times, scoring just 3 goals. He was supposed to be at his peak, as he was 27 in 2003. This dip in form resulted in him dropping out of the National team by the end of this period. Guti made his last International appearance in 2005, never playing for Spain again. The 2004-05 season was especially bad for Guti, as he failed to find the back of the net even once, scoring only one goal all season, that to against San Marino in an International friendly.
Guti won the European trophy thrice, in a highly successful club career
The election of Roman Calderon came with a promise of plucking Kaka out of Milan. This threatened Guti's position in the team, as Kaka would have been an upgrade over him with his goals and passes. A sensational move to Atletico Madrid was mooted, but in the end, Kaka stayed in Italy and Guti stayed in the Real part of Madrid. Guti moved into a deep lying playmakers position after Zidane retired, which unlocked the hidden potential of Guti. The 30 year old suddenly found his feet as he started putting in genuine Man of the Match performances week in week out. His performance in the 3-2 home win in May of 2007 against Sevilla especially drew plaudits. He was a second half substitute, playing just 32 minutes, but those 32 minutes ended up handing him the Man of the Match award for the match.
Guti started most of Madrid's attacking moves, paying a key role in the build up play of many a goals. His performances delivered the La Liga title, his fourth with the club. he continued his excellent form into the next season, famously scoring twice and assisting three goals in a 7-0 demolition of Real Valladolid. He also scored Real Madrid's 5000th League goal in a closely fought 4-3 win over CD Numancia. Guti lifted his 5th League title at the end of the season, playing 45 matches in all competitions.
Injuries and a dip in fitness led to the 33 year old playing just 18 league matches and 27 matches in total in the 2008-09 season. At the end of the season, Kaka finally made the long awaited move to Real Madrid. The move meant that there were speculations of Guti having reached the end of his long Real Madrid association. But he had a strong start to the 2009-10 season, playing regularly, sometimes alongside Kaka and sometimes preferred over him. But, a shock 4-0 loss in the Copa del Rey resulted in a bust up with then Real coach Manuel Pellegrini. Guti was subsequently left out of the league squad for a lengthy period of 7-8 games.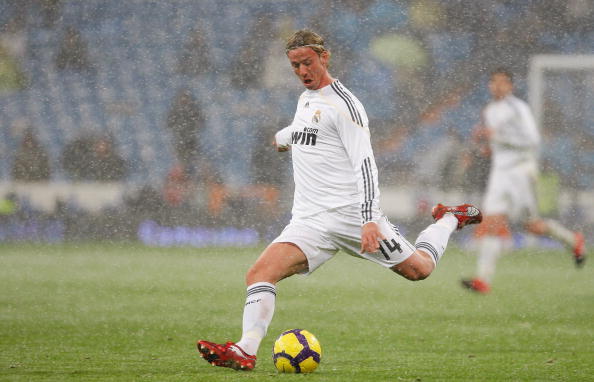 Guti put his clubs interest over his own, playing for 15 years and turning down numerous lucrative offers
After making peace with the manager, Guti again featured regularly with the first team, due to regular injury issues of the Brazilian. Guti ended up playing 30 times in all competition, scoring three times for the Galacticos. But the tension in the dressing room was intense, even after his return to the squad. Thus, when Besiktas came calling in 2010, Guti was divided. He had served and played for just one club, spending 25 years with his one love. But after 15 years of professional association on the pitch, Guti decided to leave the Whites of Real Madrid to go on a Turkish adventure.
Guti's impact at Besiktas was immediate, as he helped Besiktas to their first victory over Galatasaray in 8 years, scoring one and assisting another. He ended the season with his first domestic Cup success, defeating Istanbul Belediyespor 4-3 on penalties after a 2-2 draw after extra time. After a successful first season, the 36 year old was deemed surplus to requirements by newly appointed Carlos Carvalhal. He thus made only 3 appearances till November, with Besiktas releasing him from his contract on 15th November 2011. Guti did not play ever again, announcing his retirement officially in September 2012. He started working as a coach for the youth team of Real Madrid, and is still a part of the backroom staff at Madrid.
Guti was a player who was touted as the next big hope of Spain, coming through the Spanish Youth ranks as one of the most promising player. But, intense competition in his preferred position and constant tinkering with his role led to Spain losing out on their Naturally gifted player's full potential. If Madrid had showed their faith in the academy star from a young age, Guti might have turned into a star performer, who could have even eclipsed Kaka. But the lost opportunity moulded him into a faithful player, who would put his teams interest ahead of his own, playing in whatever position his team required him to, never demanding recognition or fighting for more regular starting spot, thus ending with 550+ appearances for Real Madrid. It would be interesting to visit an alternate timeline in which Guti was trusted with the responsibilities of an Attacking Midfielder, which could have seen him go on to become one of the most sought after player and a definite Ballon D'Or winner.
He winded his career down in turkey, winning the domestic Cup, the one trophy missing in his impressive cabinet