Klopp's nightmare continues
26 May 2018
Indifoot
0 Likes
0 Comments
543 Views
Liverpool was so close, they had done the hard work of rising through the qualification rounds and had to fight off their domestic champions in their journey to the finals, yet the manner in which they lost the game would have left a lot to be desired. Salah's injury coupled with not one, but two disastrous mistakes by Karius meant the underdogs couldn't repeat the heroics of Jerzy Dudek and the boys from 2005. Here are the excerpts post-match:
Jordan Henderson:
"When Mo Salah got injured they started to dominate with the ball. They scored a goal which was offside in the first half but we stayed in the game. We still believed we could go on but there were a couple of goals on another night which would not have gone in. Football moves forward, we have a World Cup coming up so you have to move on and the season starts really quickly.
We have to be proud of getting here. It will hurt for a while but we have to keep going. We were not good enough on the night, and I am so proud of the players and the fans who came out for us. I hope we can carry on and get into more finals and use it going forward.
It's disappointing, of course. I thought we did well to get the goal and get back in the game. But there were mistakes and Madrid are a fantastic side who are always going to hurt you. They were the better team on the night but in the first 40 minutes we dominated and had a couple of chances. It's frustrating but you've got to give credit to Madrid. We did well to get in at half-time at 0-0 [after Salah's injury]. We kept the speed of our game, we got the goal back but there are a couple of goals that on another night wouldn't have gone in."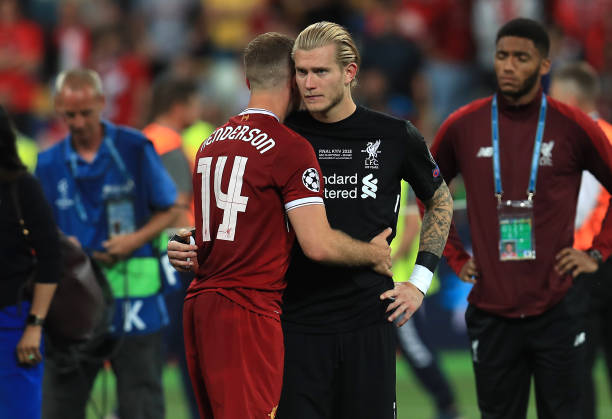 Andy Robertson:
"It's unfortunate that it had to end this way, but it's been a big season for us. We have to try and look forward. We're not blaming Loris. It's a devastated changing room just now, but we need to look forward to the summer. Until Mo's injury, I think we were the better team. Bale scored a brilliant goal, but it wasn't our night tonight."
Jurgen Klopp:
"I don't know what would have happened had Mo stayed on, but everybody saw first half-hour we played good football. Salah's injury is very serious, it is with his shoulder. He would have tried to play on but I have not seen him. He is possibly in hospital for an X-ray. It does not look good. It was very bad for Mo, for us and Egypt. That's part of the sport I don't like. The bad parts are difficult to get rid of in a game like this. Gareth Bale's bicycle kick was unbelievable. We did what we could and the boys tried everything but it was not the best script for us.
I have only very, very few words after the game but it's nothing to talk about. I really feel for him, nobody wants that, [but] that's the situation. The mistakes were obvious, we don't have to talk about that, it's all clear; he knows it, I know it, you all know it. Now, he has to deal with it, we have to deal with it, we will do that – of course, we will be with him, there's no doubt about that. It was not his night, obviously."
Loris Karius:
"I don't know what happened. I just feel very sorry for my team-mates, for losing the final. They tried to cheer me up in the changing room, but I just feel very sorry. I don't feel anything right now. Today I lost my team the game. I feel sorry for everyone. I'm sorry for everyone, for the team, for the whole club. The mistakes cost us dearly.
If I could go back in time I would. I just feel sorry for my team. I know I let them down today. It is very hard right now, but that is the life of a goalkeeper. You have got get your head up again. For now, I'm just really sorry for everyone that those goals cost us the title basically."
Virgil Van Dijk:
"We should be proud. All the teams in England want to be in our position right now. It's great that we got to the final, but we're very disappointed right now. It's not a nice feeling to have. We win together, we lose together - we're not blaming Loris. Anything can happen in a game like this, but it's very disappointing."
Georginio Wijnaldum:
"We can't let this damage our confidence. We need to use it as an experience and go again next season. It's difficult, not just for Mo but also for us and the supporters. We did well to make it 1-1 then ten minutes later we conceded again. It's always difficult to change mistakes."