Luis Suarez, the king of El Clasico, dismantles Real Madrid at the Bernabeu
28 Feb 2019
Indifoot
0 Likes
0 Comments
475 Views
There are certain players who just turn up and show their class against particular opponents. No matter how poor his current form is, no matter how long of a goal drought they are going through, their eyes lit up looking at the opponent. That is exactly what happened when Luis Suarez took to the pitch last night.
The Uruguayan was a constant menace, harassing and confusing Varane and Ramos with his physicality and clever runs. In a first half full of gilt-edged chances for Real Madrid, the sole moments of bright spots for Barcelona seemed to come through Luis Suarez.
Both teams went in 0-0 in the half time break, but Real Madrid had their tails up.They had gone close at least three times in the first half, with Karim Benzema scuffing two big chances while Vinicius Jr. brought out a sharp save from Ter Stegen. But the best chance of the first half fell to the diminutive left back Sergio Reguilon.
In a free flowing move, Vinicius took on and breezed past Nelson Semedo and put in a floated ball, one which was met by a strong and directed header from Reguilon. But Marc Andre Ter-Stegen seemingly leapt all the way from the left goalpost to the right half of the goal and clawed the ball away.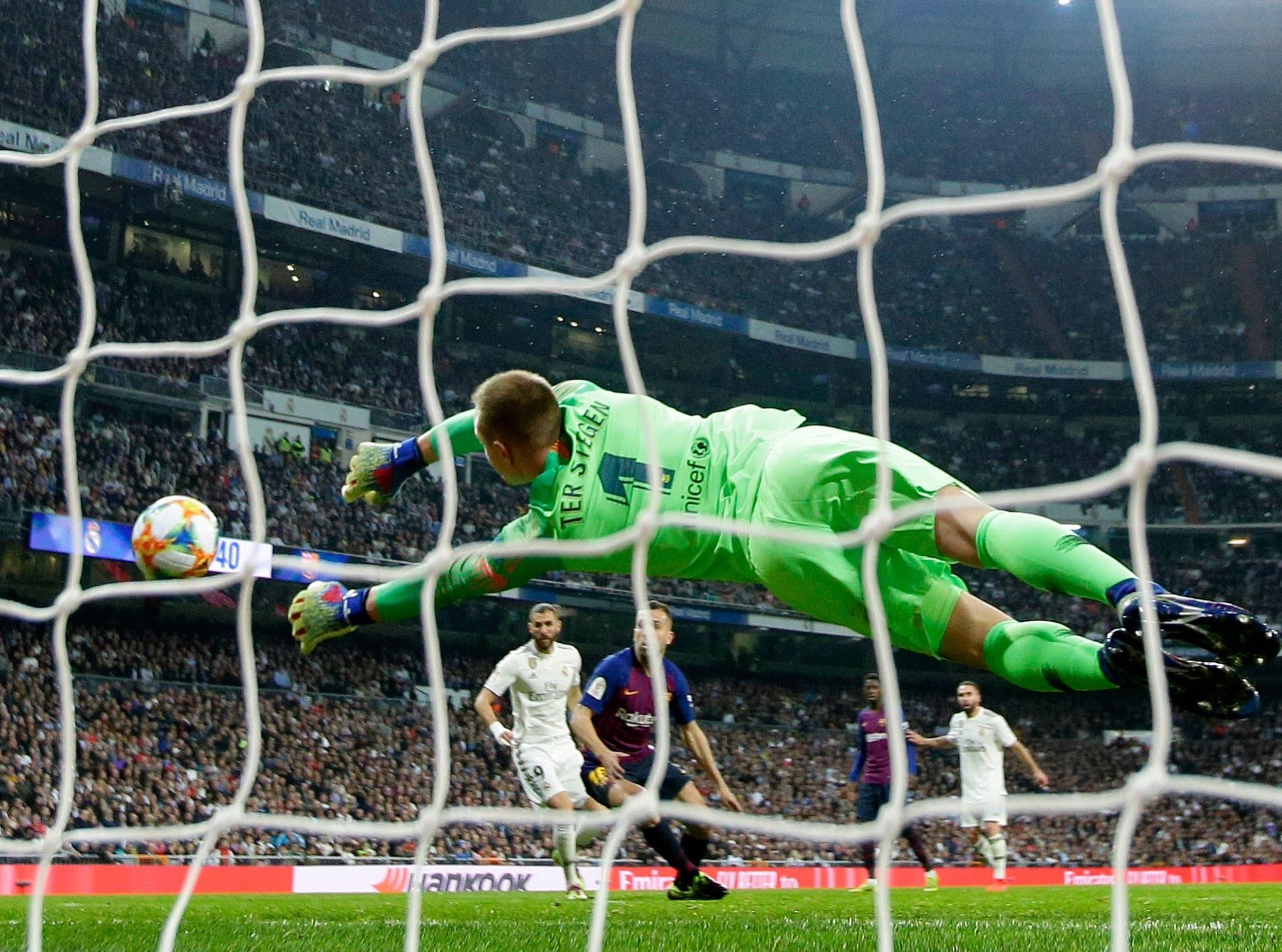 FC Barcelona's defense were hanging on for dear life, and it felt like Madrid will surely breach their defense in the second half. But just like any other good side, Barcelona punished Real Madrid for not converting their glorious chances. The first goal was an exquisite finish from the former Liverpool striker.
Ousmane Dembele ran riot on the left hand side, delivering a low cross. Luis Suarez ran towards the ball and applied the finishing touches. The effort shot between Ramos and Varane and beat Keylor Navas on his near post. Such was the power and precision that Navas did not even have the time to go down.
The second goal was once again the genius of Luis Suarez. On the counter Ousmane Dembele once again ran riot, this time on the right hand side, putting in a low cross for a potential tap in. But Varane was quickly recovering and had reached near Suarez. So Suarez used all his physical strength to force Varane into turning the ball into his own net. Failure to intervene, and Suarez would have had a simple tap-in. Thus the own goal was also the creation of Luis Suarez.
Barcelona were almost home now, with two away goals meaning Real Madrid required 3 goals to overturn the deficit and reach the finals. The situation was ideal for Barcelona to sit deep and break on the counter. And that is what they did, with Suarez drawing a foul from Casemiro on one such counter. As soon as the penalty was given, there was only one person who was going to take the penalty in that situation.
In a team with Lionel Messi in it, it was a strong statement by Luis Suarez when he stepped up and converted the spot kick. It was a penalty full of conviction, converted by a player who was at the top of his game and did not show any hints of his struggles in front of goal as recent as up until the last week.
Suarez was on a different level, just like he was on a different level in the first El Clasico of the season. In that game, Barcelona were without Lionel Messi and still managed to thrash Real Madrid 5-1, with Suarez scoring a hat-trick. Similarly, last night felt like on of those remarkably rare nights when Messi was awfully quiet and not at his best. But Suarez stepped up against his bogey team, improving his goal scoring for the season and in El Clasicos.