Manchester City find an unlikely hero in Kyle Walker
03 Sep 2018
Indifoot
0 Likes
0 Comments
586 Views
If there is a time to score your first goal, a winner from long range to catch the opposition defense off-guard and pull your team in front is surely one of them. Kyle Walker did just that. With Liverpool and Chelsea both winning early in the day, the pressure was intense on City to win the game and keep pace with the former two.
The game was off to a fast paced start, with Raheem Sterling edging City ahead as early as in the eight minute. The Englishman cut inside from the left flank, an act happening a lot more often than ever before this season, curling a delightful effort past Martin Dubravka. The early goal and pressure showed signs of another mauling by City, given their recent drubbing of Huddersfield Town in match week 3.
But the game lost a little bit of momentum, something which Newcastle masterminded with their rearguard action. Their efforts paid off with handsome reward, as a long ball was controlled brilliantly by Kennedy, who fed Rondon along the left. Rondon ran with the ball and delivered an expertly weighed short cross for the on rushing Yedlin, who caught Mendy ball watching and outpaced Gabriel Jesus to sweep the ball past Ederson to level it up.
The stadium erupted and half of the Newcastle players could not believe that they were level against the defending champions. Newcastle held onto the lead till the halftime as belief started surging through the ground. But the story felt all very familiar, with a Newcastle equalizer always by a late winner to break the hearts of te travelling fans. And this is what exactly happened.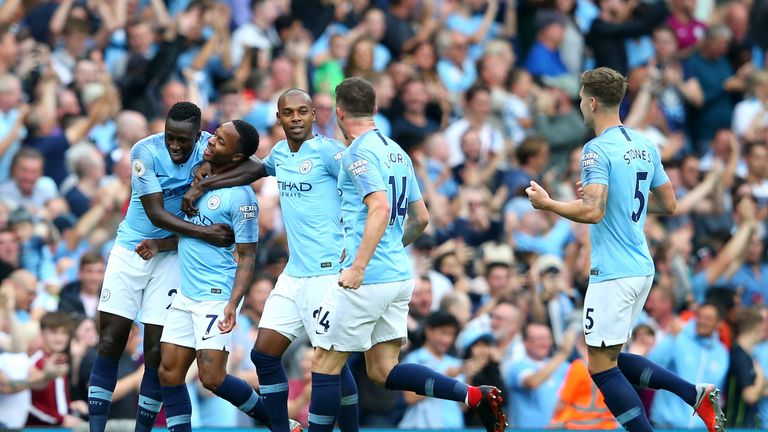 Kyle Walker drilled an arrowed effort from 40 yards, yes 40 yards, to put City ahead. It was a brilliant shot, one which had both precision and accuracy. The goal was just what the doctor ordered for City as well, who used it as a springboard to lay siege on the Newcastle goal. In one sequence, Martin Dubravka had to make three big saves in the space of 5 seconds to keep Newcastle in the game.
Ultimately, Newcastle did not threaten City's goal who won comfortably, even if the scoreline did not reflect it. Newcastle would feel hard done by once again, but it was the most comfortable of the three 2-1 defeats. One big news from the City squad was the absence of Leroy Sane from the match day squad. The reason for his absence is unclear, but it is surely not an injury. It will be interesting to see if he makes a swift return after the international break or not.
Player Rating:
Ederson - 8/10 - Had a brilliant game, with his exceptional passing making more of a mark due to the lack of goalmouth act. Was not at fault for the Newcastle equalizer.
Kyle Walker - 8/10 - Walker was solid at the back and more often than not, confidence at the back spurs (pun intended) a player on in the attacking moments, and that is what happened with Walker, who scored an exceptional goal while the crowd sang "Oh, don't hit it from there"
John Stones - 7/10 - Slotted back into the City backline, Stones had a confident performance, with exceptional footwork on the ball and resolute defending while off it. Neutralized Rondon's physical and aerial threat.
Aymeric Laporte - 7/10 - Laporte looks like Pep Guardiola's favoured centre-back, and his performance on the pitch justify his 4/4 starts. Assured and calm, forming a solid partnership with Stones at the heart of the defense.
Benjamin Mendy - 6/10 - With Pep playing him as an inverted full-back in attack, with Mendy getting more into central positions, he was caught out positionally in defense, which was evident during Newcastle's equalizer. Mendy was in the position of a centre-back, caught ball watching as Yedlin ran past him.
Fernandinho - 6/10 - Fernandinho did a lot of right throughout the game, but the cracks are starting to appear in his game, given his age. He misplaced quite a few passes and got dispossessed a few times as well. Looks currently like the only chink in the City armour.
David Silva - 6/10 - Newcastle United had a clear game plan. Crowd Silva and block every through ball he tried. It was one of those days when the opposition succeeded more than Silva.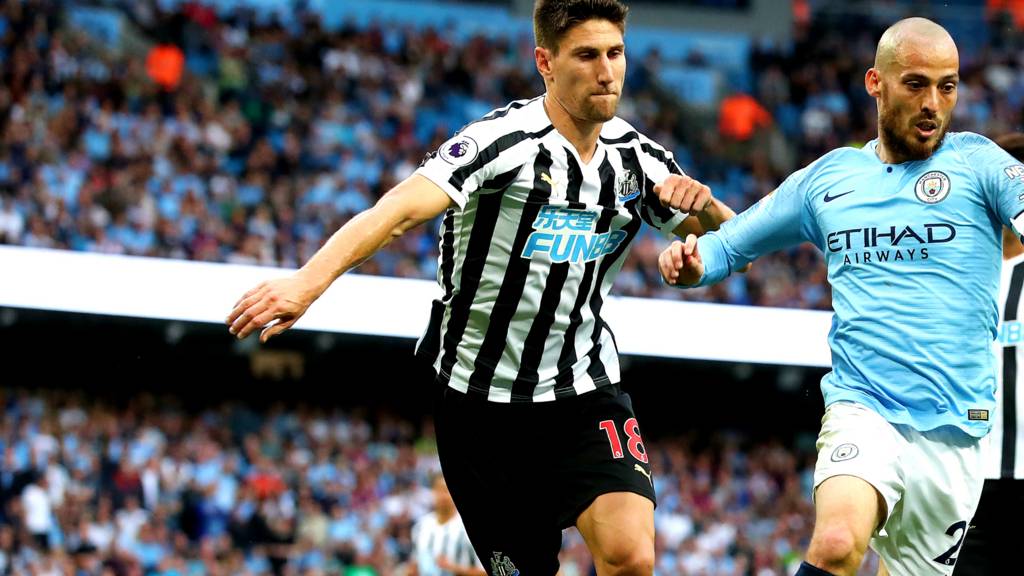 Raheem Sterling - 7/10 - Pep Guardiola will have a hard time dropping Sterling now. It seems like every time he gets benched, he comes back and puts in a brilliant performance. Played like a man who could lead City and England into the new era.
Riyad Mahrez - 5/10 - Did not have a great game, with no notable contribution to talk about. Was mostly on the periphery of the game, which is a shame for a player of his quality.
Sergio Aguero - 7/10 - Kept plugging away and tried hard to get past the physical Newcastle back three. Not his best game, but it was more Newcastle's good work than lack of movement by Aguero.
Gabriel Jesus - 5/10 - Jesus had a poor game, which is consistent with the poor start to the season that he has had. Has a long week ahead of him, with no International football to play.
Man of the Match:
Just for the goal alone Kyle Walker would win the Man of the Match. But his overall performance, running up and down the right flank tirelessly, makes him a worthy winner. We do realize that he is the third full-back to win the MOTM this week, but it definitely was a good week for full-backs, with some really solid performances, none as good as Walker.