Manchester United win the Mourinho way
10 Aug 2018
Indifoot
0 Likes
0 Comments
584 Views
Paul Labile Pogba. It had to be him, isn't it? On a warm Friday night, Paul Pogba fought off Alexis and converted the penalty from the spot. The captain on the night cooly slotted it in the right corner, with Kasper Schmeichel, the penalties hero from the World Cup, guessing the right direction but diving low. The early goal was a glimmer of optimism for the Red Devils supporters, as it was preceded by a free flowing move which was abruptly halted by Daniel Amartay's hand.
But with Mourinho, there is no such thing as expansive and free flowing football. Manchester United buckled down, maintained its shape and started fending off wave after wave of Leicester attack. And the general who was calling the shots and leading from the front with his covering of the ground and precise positioning off the ball was Paul Pogba. It felt as if he was continuing the role that he had played for France at the World Cup, a role that Mourinho has been desperately waiting for Pogba to play.
And because of his hustling and bustling performance, Paul Pogba was a deserving Man of the Match. Leicester City had more of the ball, had more shots and even had more passes than their hosts, but the stats have never determined the actual winner when Mourinho is your opponent. Fred was everywhere for United, Herrera shielded the defense brilliantly, Alexis Sanchez might have been wasteful in possession, but his energy and desire to run at the defense and stretch the opposition led to numerous chances, which a fully fit and a fully in-sync United would have easily converted.
For Leicester, James Maddison was a delight as a Central Attacker. His quick feet, Cruyff like turns and thread of a needle vision felt like a breath of fresh air. He always wanted the ball and was a constant menace, leading to the booking of Fred, who was extremely annoyed by him. Apart from him, it was hard to see any bright spots. Demarai Gray was exciting, but he needs to step out of his young and huge potentials tag and start delivering some actual performances. The kid has played over 100 times for Leicester, and with Mahrez gone, now is his time to shine for Leicester.
Player Ratings:
David De Gea - 7/10 - Made couple of brilliant saves to keep his team in it. Could have done better with the Leicester goal though.
Matteo Darmian - 6/10 - In the team due to injuries and late World Cup returnees. Did not do anything of notice which could make Mourinho make him stay in it.
Victor Lindelof - 8/10 - Had a good solid game, forming a solid partnership with Bailly and bailing each other out when required.
Eric Bailly - 8/10 - Commanding in the air and quick to sniff out opposition attacks. Expertly slowed the game down.
Luke Shaw - 7/10 - Before his wonder goal, he was fading out of the game. The goal might well have given him a clear path in the first team for the next few games.
Fred - 7/10 - Was constantly annoyed by James Maddison, who ultimately succeeded in getting him booked. Played well for his first game.
Paul Pogba - 8/10 - Man of the Match with everything good going through him for United. Stepped up and defended brilliantly throughout the game.
Andreas Pereira - 6/10 - Did not see him get on the ball as frequently as Sanchez, but was neat and tidy when on it. Ready to feature for United regularly.
Juan Mata - 5/10 - End ball left a lot to be desired. Always looked hurried on the ball. Not one of his best performances in a United shirt, but still ended up with an assist.
Alexis Sanchez - 6/10 - One worrying stat from last season was the number of time Sanchez gave the ball way. Did not buck that trend and was wasteful in possession but ran like a Bunny rabbit on Nitrogen. Expect more from him.
Marcus Rashford - 5/10 - Was terribly isolated upfront, and starved of service. Won several headers and tried his best to shield the ball, but did not exuberant confidence in the centre-forward role.
Man of the Match: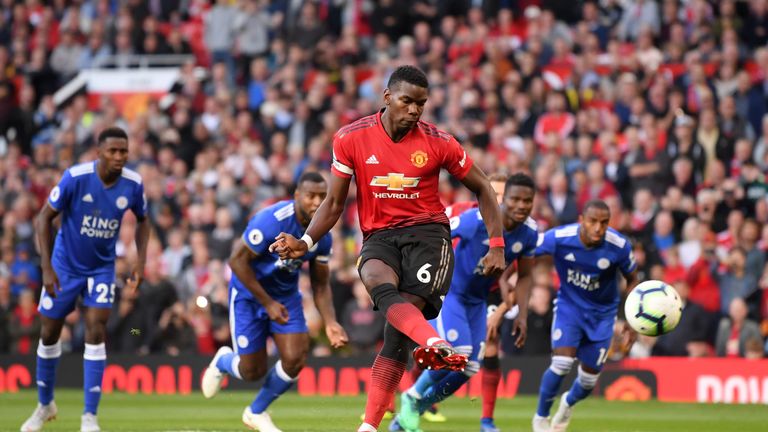 Paul Pogba had a terrific game both on the ball and off the ball. His passing was excellent, ball recovery was commendable and he was able to get out of tight spaces and turn defense into offence. Was a little rusty, but if a not-so-sharp Pogba can play so well, imagine what a fit and firing Pogba could do for United.