Manuel Sanchis Jr.
05 Oct 2017
Indifoot
0 Likes
0 Comments
1002 Views
Manuel Sanchis Jr. was Madrid through and through following his father by playing for Real Madrid
The modern defenders of Real Madrid are know to be animated, to be expressive as they let the opponents know what they feel, both verbally and with their tackles. Pepe and Sergio Ramos epitomise the feisty spirit. But it was not always like this at Real Madrid. Manuel Sanchis Jr. was Madrid through and through. His father had donned the Whites and there was no club Sanchis would have ever though of playing.
Manuel Sanchis Jr was an epitome of calmness, with his positional sense and sensible defending combined with his agility making him an ideal defender any club would be lucky to have. He was a Sweeper, a libero, who's passing range was rivalled only be a handful of defenders. He was also a high scoring defender, it's in the Real blood. He graced a Real team that had dominated Spanish football with their fearless and attractive football. He was a part of a generation of players who had left their mark on the Spanish football.
As a 12 year old, Sanchis followed his father's footstep and joined Real Madrid's academy. He played for La Fabrica, the youth team of Real Madrid. He played for the Under 14 and the Under 19 team and joined the Castilla team as an 18 year old. He helped Castilla to a second league promotion and his performance for the club did not go unnoticed.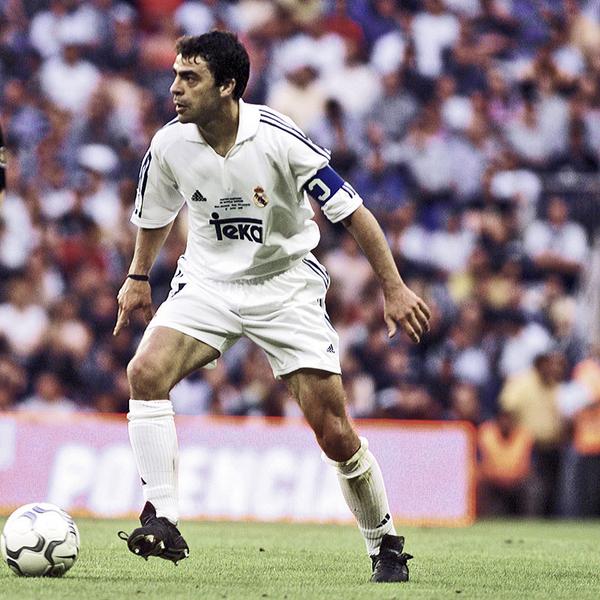 Sanchis was made the captain when he was just 23
It was the Real Madrid great Alfredo di Stefano who promoted Sanchis to the first team after just 10 appearances for the Castilla in the December of 1983. For a defender, it was a dream debut for Sanchis. It was a league game against Real Murcia and Sanchis scored the winner to hand Real a memorable victory. It was the best debut any player could have hoped for. This laid a platform for even stronger performances as he cemented his place in the first team under di Stefano.
Sanchis made 17 further appearances that season and scored two more goals, apart from his debut goal, to become the first name on the teamsheet. Sanchis had grabbed the opportunity given to him with both hands, as he made the defender/libero position his own. He finished the season winning the UEFA Cup as well as the Cope de La Liga later that year, overturning a first leg 3-2 deficit against their city rivals Atletico Madrid. It was a successful and a trophy laden debut for Manuel Sanchis, one which was just the beginning of a career filled with trophies.
The next 5 years, Sanchis and Real Madrid played some of their best football as he won five consecutive La Liga titles, a Copa Del Rey, three Supercopa de Espana and another UEFA Cup. That's ten titles in 5 years to add to the 2 won in his debut campaign. Real Madrid was at their peak, playing like a well oiled Lamborghini engine, with style and swagger in their play, backed by results.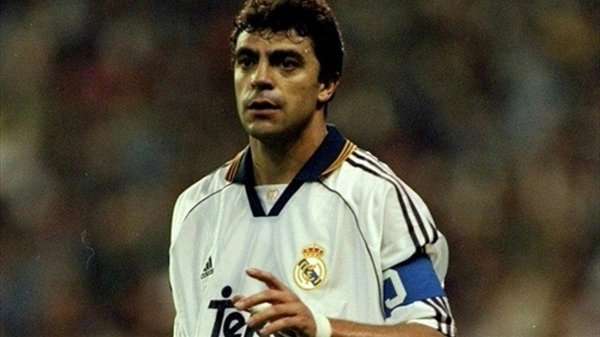 Sanchis celebrated success more often than others
Manuel Sanchis also played in the Under 21 UEFA Euros in 1986, winning the title comfortably, playing alongside some of the best and brightest talents of Spain. Sanchis was a constant in the Spanish side and his bright performances earned him a Senior team call up in November of the same year. In all Manuel Sanchis made only 48 appearances for the National team, playing his last match for the National team just 6 years after making his International debut.
Sanchis was made the club captain in 1988 and he proves his worth with consistent performances, bagging the Don Balon Spanish Player of the Year award for 1989-90 season. He was the captain of Madrid for 13 years and is widely regarded as the best captain of Madrid, leading the transition from the Golden generation of the late 80s to the early 2000s.
Sanchis kept adding to his already envious trophy cabinet, winning the Copa del Rey in 1993 and the ensuing Supercopa de espana in 1993. He got his hands on the La Liga title again in 1994-95 season, winning it again in 1996-97, and following it up with another Supercopa de Espana. This was the season when Real Madrid and Sanchis finally got their hands on the elusive. Sanchis lead Real Madrid to the UEFA Champions League title in the 1997-98 season, winning the Intercontinental Cup as well. The likes of Clarence Seedorf, Raul, Predrag Mijatiovic and Roberto Carlos were lead by Monolo Sanchis, the man who had already attained legendary status with the Madridistas.
Sanchis did it again in 2000, winning the title at the age of 35. He was still the captain and was still the undisputed starter for a strong Madrid squad. Sanchis was the sweeper every team wanted and every superpower in Europe had tried to prize him away from Madrid, but all had failed. He was a Madridista through and through and a transfer was never an option.
The one trophy that proved elusive for 15 years, but once he won it, he won it back two years later
Sanchis signed off on a high, winning the La Liga in 2001 to wrap up a hugely successful career, winning every trophy that he contested for. He was the first Madrid player to breach the 700 mark in terms of competitive appearances, finishing off with 710 appearances, 523 of those were in the league. These numbers proved the quality and consistency of Sanchis, who was the leader of the White army, leading from the front for 13 years, when he was named the captain of the club at the age of just 23.
8 La Liga titles, 5 Supercopa de Espana, 2 Copa del Rey, 2 UEFA Cup, 2 Champions League, 1 Cope de la Liga, 1 Intercontinental Cup, the 1986 Under 21 UEFA Euros as well the Don Balon Spanish Player of the Year award for the 1989-90 season.
You know a player had a highly successful career when three lines are needed to list down all the trophies he has won. Add 710 appearances for his boyhood club Real Madrid, and he is instantly a legend and the player every coach looks for and every Real Madrid coach was fortunate enough to coach. If there is one word that perfectly defines the way Madridistas would associate with him, it's LEGEND.