Marcel Desailly
05 Oct 2017
Indifoot
0 Likes
0 Comments
1215 Views
2 UCL, UEFA Euros and the FIFA World Cup defined an illustrious career of Marcel Desailly
Any two of these trophies would make a player an instant legend, but Marcel Desailly, a centre back/defensive midfielder by trade has won them all, some of them even more than once. He is yet another French player who was lucky enough to be a part of the Golden generation of footballers who dominated World football.
Born in Odenke Abbey, Accra, Ghana, Desailly was a defender right from his early days. He relocated to France as a 4 year old and joined the famed FC Nantes Youth academy. He was a defender who was fairly comfortable on the ball, which helped him transition into the defensive midfielder role effortlessly. He played alongside a young Didier Deschamps in the Nantes youth team and made his Professional debut at the age of 16. He was still finding his feet as a 16 year old and it took him two full seasons to establish himself as a first team regular.
Desailly passed through the Nantes Academy to make his professional debut
It was in 1988-89 season when he had established himself as a first team regular, starting 40 games for Nantes and scoring his first professional goal and the first goal for the club. Desailly had become a first team regular and went on to make an impressive 178 first team appearances for Nantes in 6 years. He was also getting noticed by his National team coach as he was first called up in 1993. But before that call up, Desailly switched allegiances to join Ligue 1 rivals and power house, Marseille.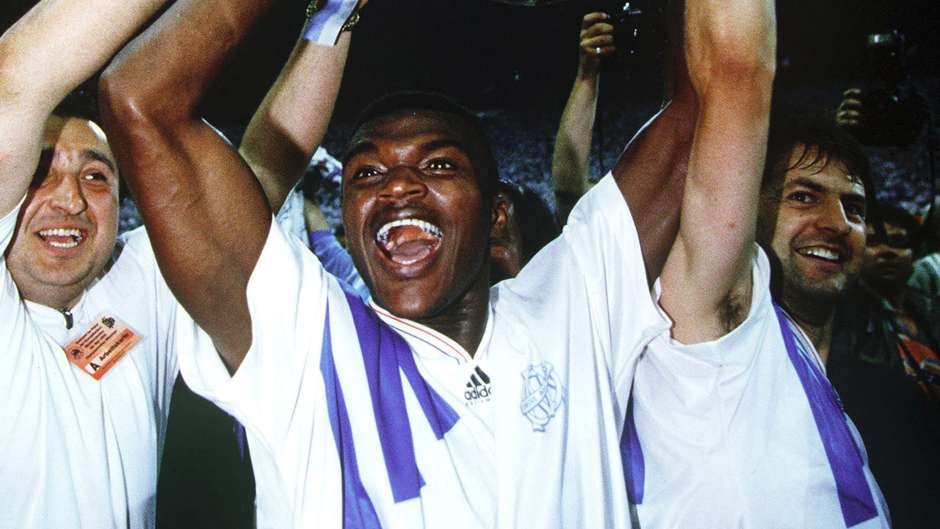 Marseille and Desailly win the Champions League in 1993
He played in 47 games that season, and went on to win the UEFA Champions League in his debut season. It was an incredible shot to fame for Desailly as he had won the biggest club competition at just 24. He was now in the reckoning for National team setup as well as an undisputed starter. Another European powerhouse came calling for his services and Desailly again couldn't say no.
Desailly joined arguably the biggest European powerhouse, A.C Milan
At Milan, he was deployed as a holding defensive midfielder instead of a defender. The new role was like an arranged marriage which prospered as he was reluctant to leave his preferred sweeper position initially, but ultimately grew into the role. Desailly started his life in Milan with a bang, winning the Serie A as well as the UEFA Champions League in his first season at the club. In the process of winning the UEFA Champions League, he became the first player to win it in back to back years for two different clubs. It was an astounding achievement, one which was only made better by the fact that he had scored in the finals for Milan.
The goal itself could have earned him a place in the A.C Milan Hall Of Fame, which he was ultimately inferred in 2005. He played in 186 games for Milan, scoring crucial goals, winning two Serie A titles to add to the UEFA Super Cup and SuperCoppa Italiana and playing the formidable role of breaking up the play and doing all the dirty work, along with spraying the ball to all corners of the field. Desailly had reinvented himself and his talent had earned him a spot in the Golden generation team of France.
In 1998, he started and played in all the matches for France as they won the World Cup. But a slight blot on his impeccable career was the Red Card he received in the finals of the World Cup. In the end though, it didn't matter much, as France successfully brought the Cup home. For his achievements at the World Cup, he was honoured with the title of Chevalier of Legion d'honneur, which is the French way of Knighting their citizens. After winning the World Cup, Chelsea's riches came calling for his services as he secured a lucrative deal to join the Londoners. He was made the captain of the team as he spent six fruitful years with the Premier League side.
Desailly lifted the FIFA World Cup, getting knighted in the process
While he endured an almost barren spell with Chelsea trophy wise, winning just the FA Cup in his second season at the club, Desailly continued to stamp French authority on every International tournament. He won the Euros 2000 with France, and was handed the captaincy of French National side after the retirement of Didier Deschamps. He led his country to back to back Confederations Cup wins in 2001 and 2003, surpassing the record for the most appearances for the French national team in 2003. His record lasted a mere three years though, with Lilian Thuram surpassing his tally later in 2006.
Desailly, now 36, saw a dip in his form and stamina as he decided to retire from International football following the terrible UEFA Euros 2004. His club form had also deteriorated as he only played in 25 matches for Chelsea that season. In the end, Chelsea, who were turning a new page with the sudden influx of cash all thanks to their Russian Billionaire owner and with the appointment of the Special One, Jose Mourinho, decided to part ways with their captain.
Desailly decided to take on a new challenge and winded his career down in Qatar, captaining Al-Gharafa to the league title in 2005 and then finishing second with Qatar SC. Finally, at the age of 38, Desailly decided to draw curtains to his illustrious and trophy laden career. He was a hard tackling, hard working and an explosive defender, with the vision for the long range balls as well the threading the needle through passes and the footballing sense to position himself to almost always water the counter attacking fire. These qualities helped in an effortless transition to midfield, which earned him loads of plaudits as he reinvented himself into a new and much more involved role.
Marcel Desailly was at the heart of the Golden generation, and although his name is easy to forget, with players like Zinedine Zidane, Patrick Vieira and Claude Makelele starring as the poster boys of the Golden generation, it was his solidity and assuredness at the back which built a strong foundation for the attackers to prosper upon. French football will truly be indebted to Marcel Desailly for his commitment and his contribution to the National team.
Desailly winded his career down in Qatar, lining up against the likes of Pep Guardiola in the Qatari league