Martin O'Neill
05 Oct 2017
Indifoot
0 Likes
0 Comments
31 Views
Nottingham forest, the club which just survived relegation to the third tier of English football, was once a force to reckon with. They had won back to back European Cup, at the Olympiastadion in Munich and the Santiago Bernabeu in Madrid. Yes, it is the same team which had barely managed to stay in the 2nd tier of English football avoiding relegation by a two goals difference, with Blackburn Rover taking the plunge. Ultimately, the signing of Lord Bendtner proved the game changer as he scored only two goals for Forest, the two goals which ultimately decided the goal difference in their favour.
But this article is not about the narrow escape, this article is about the golden years of Nottingham forest and about the man responsible for orchestrating the play from the middle of the park during those glory years. The current manager of the Republic of Ireland, Martin O'Neill was a main stay during the resurgence of Nottingham Forest from the Second tier of English football to the biggest stage of Europe.
Born in the Londonderry County, Kilrea in Northern Ireland, Martin O'Neill was born into a football fanatic family. His dad was the founding member of a local GAA club Padraig Pearce Kilrea. O'Neill's career as a footballer began at a host of college based clubs followed by spell at Rosario and Distillery. IN 1971, he won the Irish Cup at Distillery. O'Neill scored two impressive goals in the finals win over Derry City. Distillery had also qualified for the European Cup Winner's Cup and Martin O'Neill was the sole scorer in the 3-1 defeat to Barcelona. O'Neill was just 19 and had scored important goals in big games.
Martin O'Neill was a very intelligent player on the field, and maybe the fact that he was pursuing law off the field have something to do with it. He was more of a dribbler than a quick passer. He loved to have the ball at his feet and take on backtracking defenders at will. His confidence on the ball and movement off it, made him a very difficult player to mark. This is why he chipped in regularly with goals, scoring some important goals throughout his career. His feather touch and powerful movement was something which could not be hidden for long in the humble abode of Distillery. Sooner or later, he would get his big move.
And in October 1971, he was scouted by Nottingham Forest. This was a big move by an English league club and would have kick-started his career. O'Neill signed a deal for a transfer fee of 15,000 pounds and became a Forest player. He also quit Queen's University in Belfast to pursue professional football as a full time career. This was the platform O'Neill was waiting for to showcase his talent. But everything did not go according to plan.
O'Neill enjoyed a dream debut against West Bromwich Albion, scoring on his debut and winning the match 4-1. But the Forest season was the opposite of dream as they ended the campaign packing their bags for Second Division. It was a disappointing debut season for O'Neill. after the dream debut, he would have though that the perfect platform would lead to bigger and better things. But things went downhill and Forest could not recover. O'Neill scored 2 goals in 17 appearances in his debut season.
What followed was a few seasons of Second Division football with Forest at the lowest point of it's history. But things were about to change. In 1975, the Forest committee appointed Sir Brian Clough as the coach of Forest. He started a revolution for Forest which made them an unstoppable force in England and Europe. Under his leadership, Forest quickly gained promotion in 1977. Clough had built an impressive and young side with O'Neill at the heart of it. His confidence on the ball and movement off it made him an impossible player to keep track of. O'Neill started chipping in with more and more goals as Clough instilled confidence in his players.
The fact that Clough saw O'Neill in such high regard was somewhat contradicted when O'Neill later revealed that he and Clough had their fair share of spats and off field disagreements. Though he did say that he always thought that Clough was the right man and had the utmost respect for him. The differences were a result of his nature of being a straight shooter and saying things as he saw. While there might be no denying the spats and tussle, history will say that O'Neill's best playing years were under Clough.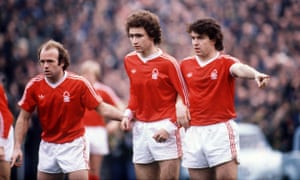 Archie Gemmill, Martin O'Neill and John Robertson line up together for Nottingham Forest
O'Neill had scored 9 goals in 40 league appearances as Forest had finished third in the Second Division, What followed inscribed the name of Brian Clough into the history books. Forest won the First Division title in their first season after gaining promotion. They also won the League Cup in 1977-78 season, winning the English treble. O'Neill again was at his best, scoring 8 League goals and acting as a fulcrum to convert defense into attack.
But this was just the beginning of the golden era. The following season was O'Neill's most prolific as a goalscorer. He scored 10 goals for Forest and helped them to Domestic League Cup success. But the biggest trophy was won by defeating Malmo at the home of Bayern Munich in the European Cup finals. O'Neill had to start on the substitutes bench due to injury. But Nottingham Forest had completed a big U-Turn of their fortunes. From mid table obscurity in the Second Division of English football in 1975 to winning the First division title in 1978 and the European Cup in 1979, Forest had announced itself to Europe.
Forest continued its dominance and won the European Super Cup to kickstart the next season. They retained the Domestic League Cup and went on an impressive run of victories which culminated at the Santiago Bernabeu. The opposition was Hamburg and the stage was European Cup finals. This time O'Neill did not miss out and powered his team to back to back European Cup success. While he was crucial to the team's European success, O'neill was losing out on his places in the first team to new recruits, one of whom was Archie Gemmill. He made 28 League appearances in the 1980 and the 1981 season as well, and ultimately left Nottingham Forest to move on to be a part of anther club's story.
371 appearances, 62 goals, 10 years. One word - Legend.
Liverpool's Graeme Souness cleaned O'Neill up during his solitary season stint with Notts County.
O'Neill had a wonderful International career as well, He made his International debut in 1971 and was a constant in the Northern Ireland midfield. He captained his country to the quarterfinals of the 1982 World Cup. He won the British Home Championship with Northern Ireland twice, in 1980 and 1984. In total, he played for his country 64 times, scoring 8 goals.
After departing from Forest, O'Neill was plagued by knee injuries as he became a one season player. He joined Norwich City but could only make 11 appearances. He then joined Manchester City but was again plagues by injuries, making just 13 appearances. He then partially regained his fitness and went on an impressive run of games for, first Norwich City again and then Notts County the following season. He scored 16 goals in these two seasons, amassing more than 100 appearances.
But the knee injury did not leave him. In a bid to remain fit for the 1986 World Cup, O'Neill joined Chesterfield, but could not make even a single appearance. He then chose to move onto Fulham to regain fitness, but ultimately lost the battle against the recurring injury. In 1985, he hung up his boots for bth club and country and decided to focused on his managerial career.
O'Neill will forever be remembered for his part in the golden era of Nottingham Forest and their dominance in European football. A classy yet powerful player, O'Neill is one of the greatest player to ever come out of Northern Ireland.