Peter Thorne
10 Oct 2017
Indifoot
0 Likes
0 Comments
918 Views
Thorne was a prolific scorer and terrific marksman.
Thorne had the unfortunate experience of not playing a single league match for fours years with Blackburn Rovers. In fact, the only time he did play for the Rovers, it was in the 1994 Charity Shield defeat to Manchester United. He had come on as a 64th minute substitute in that game, barely playing 25 odd minutes. Thorne did get to play 11 league matches, but that was in the third division with Wigan Athletic in the 1993-94 season.
In 1994, after the Wigan loan spell in which he couldn't break his goal duck, Thorne was picked up by Swindon Town. He had a terrific first season with them, playing in 20 matches, almost double the number of matches played by im in the previous four years, and he scored 11 goals. He famously helped his team reach the semifinals of the Football League Cup, but couldn't prevent Swindon Town from going down to the Second division.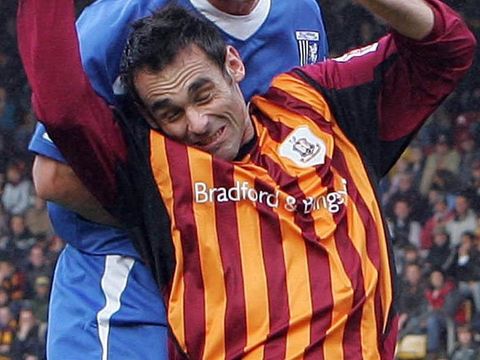 In the end, Thorne was never given a fair shot at building a Rovers career
Thorne continued to shine for Swindon, scoring 11 goals again, which helped them secure an instant promotion back to the First division of English football. Having been frustrated for 4 years at Blackburn, Thorne was now getting the opportunities that he deserved. He was the first choice striker at Swindon Town, and the 23 year old was making the most of the opportunity given to him, with his excellent hold up play attracting the interest of mid table Premier League clubs.
34 appearances and 10 goals in the third season ensured a move to Stoke City followed. Stoke paid half a million pounds to secure his services from Swindon town, and he did not disappoint. He was signed to replace the outgoing Mike Sheron, who joined Queens Park rangers. Thorne had an amazing first season on a personal front, scoring 16 goals and finishing the season as the highest goalscorer for the club. Thorne had finally turned it around, showing the world how capable and deadly a striker he was. But he couldn't prevent Stoke City from taking a drop into the Second Division.
The relegation hit is confidence hard as he struggled for form in front of goal. In the end, Thorne finished his second season with Stoke scoring just 11 goals. 9 League goals in 34 appearances was not what was expected of Thorne, especially on the back of a confidence building season. The 26 year old was in his prime and had to prove everything all over again. he did exactly that, banging in 24 League goals and 30 goals overall in 55 appearances. It was his best professional season, a season in which he sometimes scored just for fun. It was all coming very easily for him, as Stoke were now finding it increasingly difficult to hold onto their star player.
Thorne followed it up with another solid season, scoring 19 goals, but with Stoke City firmly seated in the Second Division, he was looking for a more ambitious club, who could help him move up a ladder to the Top tier of British football. Thus, in 2001, the 28 year old was signed by Cardiff City for £1.7 million, making him a club record signing at that time. But, just like any other story, the weight of being a club record signing hit him like a curse. Thorne had an injury plagued first season with Cardiff, which restricted him to just 26 appearances on the pitch. he ended the season with just 8 league goals, a meagre return, considering the hype and expectations on his shoulders.
His performances for Swindon Town earned him a move to Stoke City
But after building up his fitness over the summer and playing a full pre-season, Thorne returned stronger and fitter. He linked up brilliantly with Robert Earnshaw, playing more like a second striker and second fiddle to the pacy Earnshaw. Thorne ended the season with 16 goals, the most vital of those being the goal against Bristol City in the first leg of the promotion play offs semifinals. Thorne and Earnshaw formed a lethal partnership, scoring 52 goals, as Cardiff earned promotion to the Top flight. It was exactly what Thorne wanted and the sole reason for his switch from Stoke City.
Thorne was having another solid season with Cardiff, but a serious injury meant that he ended his season three months early, playing just 23 league matches. He had scored 13 goals till that point and was playing at his best alongside Earnshaw when the injury halted his progress. In the end, Cardiff dropped to the Championship after playing just one season in the Premier League. New season did not change the old problems as Thorne, who was the highest paid player at Cardiff City, again had a start stop season due to injuries. In the end, Cardiff decided not to extend his contract as they couldn't afford to continue to pay him the wages that they were already paying.
14 goals in 35 appearances meant that, even though the 32 year old was blighted with injuries, when he was fit, he really turned it on against the best. Thus, he had no shortage of suitors looking to secure his signature. In the end, he decided to sign for the Canaries, securing his next two years. But the curse of injuries haunted him at Norwich as well. Thorne missed the beginning of the new season due to injury, and when he returned, he couldn't establish himself as a first team regular, with heavy competition provided by Darren Huckerby, Leon Mckenzie and Winter signing Robert Earnshaw. Thorne managed just a single league goal in 21 appearances, as the supporters and critics unanimously thought that he was finished at the top level.
Thorne's Norwich move saw him celebrate his teammates goals more than score himself, which was a negative impact for a striker
With numerous reports of retirement and a possible transfer popping up during the summer, Thorne eventually decided to give his Norwich City career another chance. But injuries and poor form meant that Thorne ended the season playing just 15 matches in all competition, scoring just once against Rotherham United in the League Cup. At the end of the season, Thorne, who was out due to a hip injury, was released from his contract. After pondering retirement, the 34 year old found a suitor in the recently relegated to League Two side Bradford City.
The move to Cardiff City was motivated by a desire to play in the Premier League again
The one year contract was a new lease of life for Thorne, one which he grabbed with both hands. This late twist in his career was the perfect opportunity away from the limelight, one that could help him wind his career down with dignity and on a high. After a delayed debut, Thorne had a wonderful first season, scoring 15 goals, including a first Bradford hat-trick in two years, against Notts County. In March 2008, Bradford City announced that they were going to take the option of a contract extension clause added in his initial contract, thus prolonging his stay for another season at the least.
Thorne had an unbelievable start to the new season, scoring 5 goals in the first three matches, 8 in the first six and he had already scored 11 goals by the time November arrived. he was leading the goalscoring charts of League Two at that time as well. A short drought followed, which was aided by a Shoulder injury and a terrible dip in form, with Thorne scoring his next goal four months later in February. A late resurgence towards the end of the season meant that Thorne finished the season with 17 league goals. He was offered another one year extension along with handing the Club Captains armband.
Bradford City resurrected Thorne's reputation, as he managed to play consistently and stay injury free
Thorne accepted the contract but suffered an injury setback during the off season. that prevented him from making a single league appearance throughout the first half of the season. After scoring a goal for the reserves side, Thorne was brought back into the mix for the first team in January 2010. But after 7 league appearances, he had failed to find the back of the net. In the end, Bradford City decided to terminate his contract in March and Thorne, who was 37 by now, ultimately decided to retire from professional football.
The Manchester born forward had a solid career, making a name for himself in the Second division, which was later renamed as the Championship. Thorne was the kind of forward who would make for an ideal goal threat in a mid to lower table team. He could never make that step up in class and earn that one big money move to a big club, but at his best, Thorne was a dangerous centre forward, one who was once the highest paid player at Cardiff City along with being a club record signing. If the bullish forward had gotten an opportunity to show his talent at Blackburn, he could have developed into a completely different striker, one who could have terrorised Premier League defense. But the speculations and what ifs are only as good as ones imaginations. In the end, Peter Thorne had a fairly successful career, one that was full of goals, as his record of 197 goals suggests, but one which was also blighted with injuries.
In the end, Thorne had a fairly quiet career, which was blighted by injuries and a lack of confidence in his abilities