Ranking the best managers in the Premier League
23 May 2019
Indifoot
0 Likes
0 Comments
720 Views
Premier League has seen an ensemble of big names coming in recent years. This has included managers as well, with Pep Guardiola, Jurgen Klopp and Mauricio Pochettino all coming down to England to try their luck. There have been some really good managers who have underperformed, while some low-profiled managers who have punched way above their weight. Here is a look at the top 5 managers based on the expectations put on them, the resources that they had and the performances that they produced with their players.
Note that big names like Pep Guardiola and Jurgen Klopp have been left out due to the sheer amount of money and quality of players at their disposal. Emphasis is given to managers who have outdone with shoe-string budgets, underperforming players and injury woes.
5. Unai Emery
Oh what a mess Unai Emery found himself in. He had virtually no money and had to rely on free transfers and cheap players, had his cub captain out for the majority of the season and Mesut Ozil shaped problem to deal with. When your centre-back options are the error-prone Shkodran Mustafi and a 30 year old Sokratis, you are looking at a dismal season.
He had to work with a 19 year old rookie, a 22-year old inconsistent winger who just cannot shoot and a German playmaker who was sitting pretty with huge sums of money and little desire to work for the team. But what Emery did with this beleaguered and old squad, bettering the total of Arsene Wenger and coming so close to finishing in the top 4, deserves big plaudits.
He has stamped his authority on the team, dropping Ozil and Mkhitaryan regularly and has also provided a blueprint for the style of football he wants his teams to play. He has moved away from the traditional possession based football to a compact and narrow football which depends more on his strikers bringing in other players into the attack rather than pass-pass-pass. He has taken big strides in the solitary season in-charge and is thus number 5 in our list.
4. Nuno Espirito Santo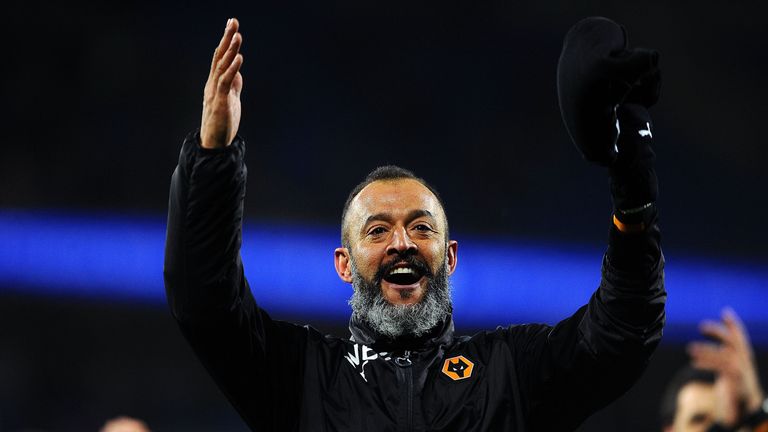 Nuno Espirito Santo did what was expected of him last season. He won the Championship with Wolves last season and were hugely touted to finish 7th even before the season started. Wolves did exactly that, playing an attractive brand of football with a solid base of defenders. Nuno has improved every player in the squad, with Matt Doherty and Jonny Castro looking like the best wing-backs in the league.
But the big master-stroke came when results weren't going his way. Nuno changed his formation from a 3-4-3 to a 3-5-2 with Leander Dendoncker coming into the midfield and Diogo Jota forming a potent partnership with Raul Jimenez. The results were imminent, with the Robin-hoods of the Premier League beating every European finalist and losing against every relegated team.
Nuno Espirito Santo had a solid backline to always rely on, with Conor Cody, Willy Boly and Ryan Bennet an ever-present back three with Rui Patricio being one of the best goalkeeper outside the top four. With a seventh placed finish and semifinals of the FA Cup, Nuno Esperito Santo is 4th on our list.
3. Javi Gracia
This is a contentious decision. Javi Gracia was an odds on favourite to be the first manager to get the sack at the start of this season. Not only did he defy the odds, he punched way above his weight. On a shoe-string budget, with little to no inspiring signings, Gracia did exceptionally well in inspiring a bunch of outcasts.
He brought the best out of Juventus outcast Roberto Pereyra and FC Barcelona outcast Gerard Deulofeu. The result was a combined 16 goals and 6 assists. He also put a lot of trust in Tottenham outcast Etienne Capoue, who was recently voted as the best player of the season at Watford.
Gracia played a 4-2-2-2, with two holding midfielders, two attacking midfielders and two strikers. His team played narrow, hustled and bustled for the ball and countered rapidly. Their two strikers, Troy Deeney and Andre Gray, came good with goals as Javi Gracia reached the FA Cup finals and narrowly missed out on a top 10 finish. From being odds on favourite of being sacked to reaching the Cup finals, Javi Gracia deserves to be in the top 5 managers of the season.
2. Maurizio Sarri
Sarri has divided opinions big time this season. While some have hailed him as a genius for finishing third in the Premier League, reaching two big Cup finals and playing an attractive brand of football while bringing the best out of Eden Hazard, others have been calling for his head for an inconsistent season, not giving more chances to Callum Hudson-Odoi.
Whatever be your opinion, finishing in the Champion League spots just below the front two, losing to the impressive Man City on penalties in the League Cup finals and going into the Europa League finals as favourites against their London rivals Arsenal is a hugely impressive feat in your first season in England. Chelsea have moved from their hoove the ball to Hazard and hope he does something to an attractive, ball-on-carpet, tiki-taka styled football.
Jorginho and N'Golo Kante debate went on throughout the season, but Sarri did impressively well to keep the two in the team. He also shifted his faith from Kovacic to English youngsters Ruben-Loftus Cheek and Ross Barkley. Meanwhile, Hudson-Odoi got useful minutes in the first team in every competition, making for a brilliant season for Sarri.
1. Mauricio Pochettino
Oh, what a season Tottenham have had. They were on the verge of collapsing out of the Champions League, but luck favored them. They then eliminated man City and AFC Ajax under thrilling circumstances to reach the UCL finals. In the league, they defied all odds with no arrivals for two straight transfer windows and home in limbo with Wembley being their home stadium for the majority of the season.
Yet they finished in the top 4 and are will play the final game of the season. Pochettino lost more minutes than any other Premier League team due to injuries. He had to rely on Moussa Sissoko, Juan Foyth and Oliver Skipp at various points in the season for the shear lack of players on the bench. Harry Kane has been injured for virtually the whole of the second half of the season, with Dele Alli and Harry Winks struggling with similar spells on the sidelines.
What needs to be overemphasized is the fact that no players were signed in two consecutive transfer windows and yet Spurs can win the biggest trophy in European football. This has put Pochettino on the radar of Man Utd, Juventus, FC Bayern Munich and FC Barcelona. But with new signings guaranteed this summer and a new and exceptional home in place, Pochettino would be raring to go again next season at Spurs.
Do you agree with the top 5? Is the decision to leave Pep Guardiola and Jurgen Klopp out justified? Write to us at contact@indifoot.com or reach out to us on instagram, twitter or facebook.