Sonny Anderson
10 Oct 2017
Indifoot
0 Likes
0 Comments
972 Views
Sonny Anderson was a fox in the box, without the typical Brazilian flair
When you come across a Brazilian striker, you would instantly think of the Samba skills and the dropping the defenders dead players like Ronaldinho, Neymar and Gabriel Jesus. But Anderson da Silva, or as he is more commonly known as, Sonny Anderson, was a striker who was no nonsense, kill the ball dead with his first touch and embarrass the goalkeeper with his deadly finish kind of striker. Anderson had a very slow start to his career, but he started hitting the right chords by the time he arrived in France. His performances never lent him the superstar status that Ronaldo and Pele had enjoyed, but his contribution were always significant to the club he played for, usually helping them to domestic and European success.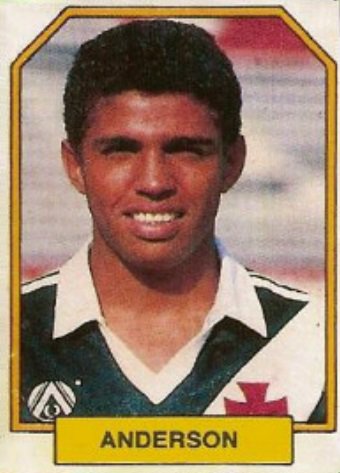 Anderson had a lacklustre spell at Vasco da Gama, one which set him back by 3 years
Born in Goiatuba, Goias, Anderson started his professional career at Vasco da Gama. He had a very slow start to his career, as he failed to hit the ground running, scoring just 13 goals in his first two seasons. But the third season was the one which made Vasco da Gama lose their faith in Anderson. He went on an 18 games barren run, which led to an imminent transfer to Guarani Futebol Clube. Anderson spent half a season at Guarani, scoring 4 goals in 18 appearances, before Swiss Super League side Servette FC came calling.The European move was a big step for Anderson, one that would act as a catalyst to bigger and better things.
After winning the Campeonato Brasileiro Serie A, Anderson had a wonderful first season with Servette. He scored 20 goals in the 1992-93 season, winning the Top Scorer and the Best Foreign Player award in his debut European campaign. Anderson continued his brilliant form by netting 11 goals in the first half of the second campaign, as big clubs started lining up for his services. In the end Marseille ended up with Sonny Anderson's signature, as he embarked on a new journey in France.
Anderson resurrected his career at Servette FC in the Swiss Super League
Anderson had a wonderful half season with Marseille, but the stay was cut short because of controversies of the pitch
Anderson did not take a lot of time to adjust in the new league, banging in 16 goals in 20 appearances during the second half of the campaign. Just when he thought he was going to enjoy a long and successful run with Marseille, a bribery scandal hit the club hard. Marseille had bribed Valenciennes to lose the match which would secure the 1993-94 French Ligue 1 title, so that they could focus on their Champions League finals against A.C Milan. Marseille won the Champions League as well, but later, the bribery was brought to light, with Marseille stripped of the League title and banned from defending the European crown. They were also relegated to the Second Division of French football, which led to wholesale selling of players.
Anderson scored 64 goals in his three years with Monaco.
Anderson was one of them. He joined league rivals AS Monaco, where he had three solid years, scoring 50+ league goals. Anderson topped the scoring charts in his second season with Monaco, winning the Top Scorers award along with the Étoile d'Or. He had a terrific third season, winning the Ligue 1 title along with the Best Player award, as talks of a move outside the French Ligue started gaining momentum. In the end, FC Barcelona came calling for his services as they wanted to add competition to the already World Class strikers that they had, Luis Enrique and Patrick Kluivert. Sonny fared well, holding his own and scoring 10 goals in his first season in a new league. He won the La Liga as well as the Copa del Rey in his first season in Spain, winning the domestic double.
The second season started on a positive note for Sonny, winning the Spanish Super Cup and taking an early lead in their defense of the La Liga title. But training ground bust ups with then manager Louis Van Gaal meant that he saw lesser playing time in his second season. Having spent more than 3 years in France, he was also missing his familiar stomping ground, as a move back to his European home was mooted. In the end, his bust ups with manager meant, he was deemed surplus to requirements as Olympique Lyonnais rescued him from Barcelona for a whopping €18 million. The move drew curtains on a successful spell in Barcelona, winning back to back La Liga titles to add to the Copa del Rey success.
Lyon got Sonny Anderson at his peak and he delivered two league titles and a constant supply of goals up front
Lyon was a rising club under a stellar leadership and with great influx of Cash reserves. After hovering near the top in his first two season, Lyon started their run of 7 consecutive Ligue 1 titles in 2001-02. Sonny Anderson was an integral part of the Championship winning team, as he was the top scorer in the Coupe de la Liga winning 2000-01 season as well as the Championship winning 2001-02 season. The 31 year old showed no signs of slowing down, banging in goals after goals as he was ably supported up top by young and talented players like Juninho, Éric Carrière and Sidney Govou.
His exploits with Lyon earned him a ticket to the 2001 Confederations Cup with Brazil. The 31 year old had made his International debut in August 1997 against South Korea, but could not nail down a place in the National squad. But his chart busting form in France earned him a seat on the plane to the 2001 Confederations Cup. In the end, Sonny failed to impress in National colours, scoring just 1 goal in 6 appearances, as his International career faded away.
But, Anderson was an ever present in the first team, but his contribution started to dip in his 4th season with the club. Although Lyon did go on to win the Ligue 1 again, they decided against renewing the 33 year old's contract. Thus, Villarreal CF, an unlikely Spanish club picked him up. he scored 13 times in his first and only season with them, scoring important winners against Real Madrid (1-0), Barcelona (2-1) and Valencia (1-0). he also reached the semifinals of the UEFA Cup with the Yellow Submarines, winning the UEFA Intertoto Cup. He finished the UEFA Cup as the top scorer, scoring 7 times. This was a prolific season for Sonny Anderson, who at the age of 34, scored 20+ goals in all competitions.
His last hurrah came in the Qatari League, where he averaged more than a goal a game at one point
But the 34 year old knew that his time at the top level was limited. So he decided to cash in and move to Qatari side Al Rayyan after a single season with Villarreal. He tore up the Qatari League, scoring an unbelievable 24 league goals in just 20 league appearances, as he finished the season with the Top Scorers award for the Qatar Stars League. The new season saw him link up with a new club, Al-Gharafa this time. But he failed to recreate the form he showed last season, scoring just 6 times in 19 league appearances. Anderson decided to retire after that season, bringing an end to a trophy laden career. He played a farewell match in June 2007, a match organised to commemorate his contributions to French football.