Spurs dismantle Manchester United to announce their title credentials
29 Aug 2018
Indifoot
0 Likes
0 Comments
520 Views
The big game of the week was reserved for the Bank holiday Monday. It was Manchester United was Tottenham Hotspurs at the Theatre of Dreams. Old Trafford was jam packed and buzzing. Jose Mourinho was at his best as well, springing a surprise and starting with a back 3. Ander Herrera was deployed as a Right centre back, while Nemanja Matic was rushed back into the side.
And, and, and, Mourinho had given his players the license to thrill!
Yes, you read it right. Manchester United went all guns blazing in the first half. They pressed high up the pitch, they moved the ball quickly, they did not sit back and defend in numbers. Instead, Pogba man marked Dele Alli, which neutralised one half of Tottenham's creativity. Eriksen, meanwhile, was forced to go deeper and deeper due to the pressure applied by Fred and Jessie Lingard with the high press. This meant that United created some of the most dangerous chances of the first half, while Harry Kane and Lucas Moura were isolated up top.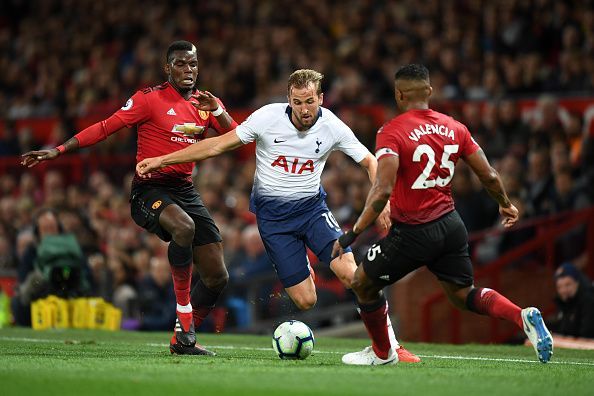 For all the positive intent, United failed to score that goal which would have given them confidence and belief in the new system. Lukaku let up a glorious chance go begging having been sent through on goal by a poor Danny Rose back pass. Lukaku pounced, by-passed the keeper Lloris, but scuffed his effort just wide of the far post. This was the type of the chance that United had to convert ot have something to show for their dominance on the pitch.
This meant, Spurs were still in the game at half time. The fifteen minutes break was crucial and allowed Pochettino to convey the counter to Mourinho's tactics to his men. His plan was to push Lucas and Harry Kane wide so that they were almost playing as two wingers. This left a gaping hole in the middle, which Dele Alli occupied. This change in shape meant that Pogba was unable to track Alli, while Eriksen was now left a little more free to work the channels, with Harry Kane occupying Luke Shaw and Phil Jones.
The plan worked like a magic trick and Christian Eriksen orchestrated the two goals which Spurs scored in two minutes to run away with it and silence the Theatre of Dreams. Eriksen ran the right channel, combining with Kane and earned a corner. Harry Kane, fresh from his World Cup set-piece exploits, expertly converted Kieran Trippier's delightfully floated ball to give Spurs the lead.
The second goal saw Eriksen again combining with Kane to run the right channel and put in a delightful cutback for Lucas Moura to pounce onto. It was poor defending from Ander Herrera, who did not step up to hold the Manchester United backline, playing Kane and Moura on-side. He then let Moura finish easily, applying minimal pressure on the Brazilian. Just like that 0-0 became 2-0 and Spurs were cruising.
United tried to rally back, but frankly, Spurs outplayed United man to man. Even the manager Mauricio Pochettino out smarted Mourinho, meaning that even though United were desperately trying to claw their way back, it was just routine defending for Alderweirald and Vertonghen. In the end, Lucas Moura went on an almost Thierry Henry-isque run, cutting through the heart of United's defence and scoring wonderfully past the helpless David de Gea to make it 3-0 and announce their title credentials.
United are in turmoil and Mourinho is bleeding. Meanwhile, Spurs are flying and have moved on from competing against Arsenal for bragging rights to genuinely compete for the Premier League title. The pre-season two horse race might just have seen the entry of a third horse.