Top 5 games of the Premier League Season so far.
09 Feb 2018
Indifoot
0 Likes
0 Comments
467 Views
26 games have been played. The Premier League winner has arguably been decided. Pep Guardiola has taken City to newer, greater heights, while Arsenal's regression after missing out on Champions League lasts season continues. Chelsea's defence is over, Spurs have disappointed after being title contenders for the last few seasons and Liverpool have gone from strength to strength.
A certain Left footed, red-headed midfielder has taken the league by storm, putting in performances putting him in the bracket of Andres Iniesta at his best with his string-pulling display being compared with the likes of Lionel Messi and Luka Modric. Another Egyptian has shattered all records at Liverpool for a new boy, ironing outa tiny wrinkle which was the mid-season loss of Philippe Coutinho. A Chilean has swapped the Red of emirates to the Red of Old Trafford, while the little Belgian number 10 has lit up Stamford Bridge.
With dazzling performances and brilliant games coming week-in-week-out, let us take a look at the top 5 games of the Premier League season so far:
3. Arsenal 1-3 Manchester United
It was a game which defied all logic, a game which the statisticians could not explain, a game which added at least £20M pound to David de Gea's already hefty price tag. Let us break it down statistically before analysing it on the pitch. Arsenal had 76% possession, 16 shots on target out of 33 shots attempted, while Manchester United had only 4 shots on target. They converted 75% of those chances.
Arsenal had started off poorly from the back, and before they knew it, they were 2-0 down. Koscielny gave the ball away from the middle of the park straight to Valencia, who strolled past Kolasinac, exchanged a lovely one-two with Pogba and side-footed the ball past Cech to score the opener. It was a poor start from the Arsenal defence and it was about to turn worse. His defensive partner, Shkodran Mustafi that it was his turn to better Koscielny.
Mustafi, under little pressure from Lingard, gave the ball straight to Lukaku, who fed the ball to Martial. Martial then beautifully turned his defender and laid it on a plate for Lingard to finish it off past a hapless Cech. Arsenal were 2-0 down and up against a Mourinho defence. After a Mustafi injury forced Iwobi onto the pitch, Arsenal began their domination in the final third.
Ozil, Lacazette, Xhaka, Sanchez, Ramsey, Bellerin and Kolasinac all had shot on target in the first half, but none could help Arsenal half the deficit. But things changed at the beginning of Second Half. Ramsey made a terrific run into the box which was spotted by Sanchez. Ramsey then teed up Lacazette who fired it into the net. Game On.
14 minutes later, and after absorbing immense pressure, United struck on the counter. Lingard finished off a brilliant counter attacking move orchestrated by Pogba to put United 3-1 up. After that, Arsenal tried and tried, but could not find the finish that would claw its way past the immovable force, that was de Gea. In the end, Arsenal lost their first home game of the season, while United proved that they are not always boring, although their supporters would have preferred the boring United on that day.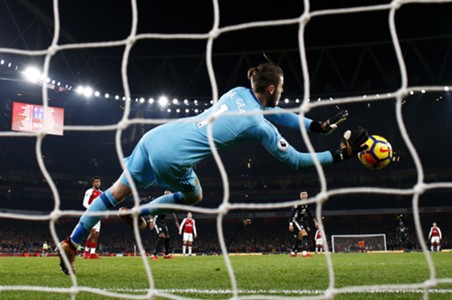 The 2nd in the list of Top 5 games of the season will be revealed tomorrow (10/02/2018) night. Look out for the notification from our indifoot app to read it.