Where will they finish at the end of the season?
06 Feb 2018
Indifoot
0 Likes
0 Comments
521 Views
Jose Mourinho, the man known to win League titles in his second season at the club, looks more and more likely to be consigned to a second place finish behind a Manchester City side which has broken records, shattered expectations and player a brand of football never seen before in the Premier League. But to call this season a step backwards would be utter nonsense. Last season, after 26 games, Manchester United had 49 points after 26 games last season, they had 41 points in 26 games the season before that and they had 47 points in the 2014/15 season. Manchester United are currently sitting second in the PL table with 56 points, 7 more than their best in the last three seasons.
Manchester United have often been criticised this season for not playing an attractive brand of football and they have been criticised for the way they have handled Paul Pogba, with nobody certain of a clear position which would suit his strengths. But that has not deterred Mourinho from doing what he does best, go on an impressive run and keep collecting huge bundles of points. If City hadn't had the season that they are currently having, United could have well been a top contender for the Premier League title, something which looks like a distant dream now.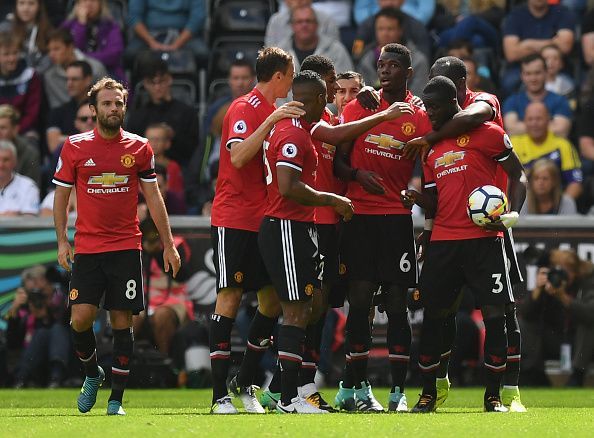 Let's analyse what is left for United to play for
Premier League:
Manchester United are not winning the Premier League title, but they can cement the status of being the second best team in England by finishing second. United have 12 games left to play in the league, six of which are away games. The fixture list is particularly kind to United, with three of the four remaining games against the top 6 sides coming at home. This means Manchester United will take on Chelsea, Liverpool and Arsenal at home, travelling to the blue part for the Manchester derby.
Mourinho lost to bitter rivals City in the home fixture with a lacklustre performance, but make no mistake, he will be back and he will be back with vengeance in his mind. Mourinho has time and again proved his detractors wrong, with unexpected results and performances which have buckled the trends and made him the manager that he is today. With the rest of the fixtures being predominantly against the current bottom 10 sides, United would surely look to maximise the points tally for this season.
With the League title gone, United must look at the last 12 games as a mini league, with the goal being to maximise the points tally and get the team combination right to settle down to a fixed XI. Sorting the defence out, maximising the services of Pogba, and integrating Alexis Sanchez into the team should be his top priority. If he can get this all done, then Mourinho could well run away with the title next season, just like City are running away with it this season. An estimate of the points that United might collect from the last 12 games:
Newcastle United vs Man Utd - 3 points
Man Utd vs Chelsea - 0 point
Crystal Palace vs Man Utd - 3 points
Man Utd vs Liverpool - 0 points
West Ham vs Man Utd - 3 points
Man Utd vs Swansea - 3 points
Man City vs Man Utd - 3 points (A Jose masterclass to out-think and out-play Pep)
Man Utd vs West Brom - 3 points
Bournemouth vs Man Utd - 3 points
Man Utd vs Arsenal - 1 points
Brighton vs Man Utd - 1 point
Man Utd vs Watford - 3 points
VERDICT: Total points tally = 56 + 26 points = 82 points (Firm favourites to finish 2nd)
FA Cup:
The scoreline would have suggested comfortable victory for the Red Devils, but it was far from it. Manchester United gave Alexis Sanchez his full debut in their away FA Cup 4th round tie to Yeovil Town, which they won 4-0. The win means, United will face either of Huddersfield Town or Birmingham City in the 5th round of the FA Cup.
United have won the FA Cup two seasons ago and know what it takes to go all the way. With the ouster of Liverpool and Arsenal, and with Manchester City competing for all four trophies, it might look like the FA Cup is the one trophy which they might let go of, especially if the prize for letting go was advancing deep into the Champions League. So, United must fancy their chances, with Chelsea woefully out of cohesion and form under Conte and Spurs record of not winning any trophy in the recent past.
VERDICT: A trip to Wembley should be the minimum requirement, but we think that Manchester United are firm favourites to win the FA Cup twice in 3 years.
Champions League:
Manchester United face Sevilla in the round of 16, with many expecting them to stroll past Vincenzo Montella's side very much in transition and struggling with identity crisis. Mourinho is a specialist in European competitions as well as knockout competitions, with his Europa League win and League Cup win last season adding to his credentials. United will also be elated by the fact that there could be as many as 5 Premier League teams, although 3 seems like a more realistic number, in the last 8.
United are sure to be joined by Bayern Munich, AS Roma and Manchester City. If you were a United supporter, you would surely be praying for a meeting with the Romans, as in AS Roma. With things down to luck and the draw, one can only gauge squad depth and strength to assess the chances of a club.
VERDICT: Based on these factors, we can see Manchester United reaching the semifinals if and only if the draw is in their favour. Otherwise, elimination at the quarterfinal stage seems more and more likely.
United need to build their XI for next season right from the get go. They need to sort out the ideal position for Paul Pogba to thrive, need to adjust their system to suit Sanchez's style and they need to make some hard calls on the lacklustre United defence, with Smalling looking more and more out of place and Shaw looking more and more likely to dethrone Young as the first choice Left-back. United still have two trophies to play for and a team to build for future endeavours.